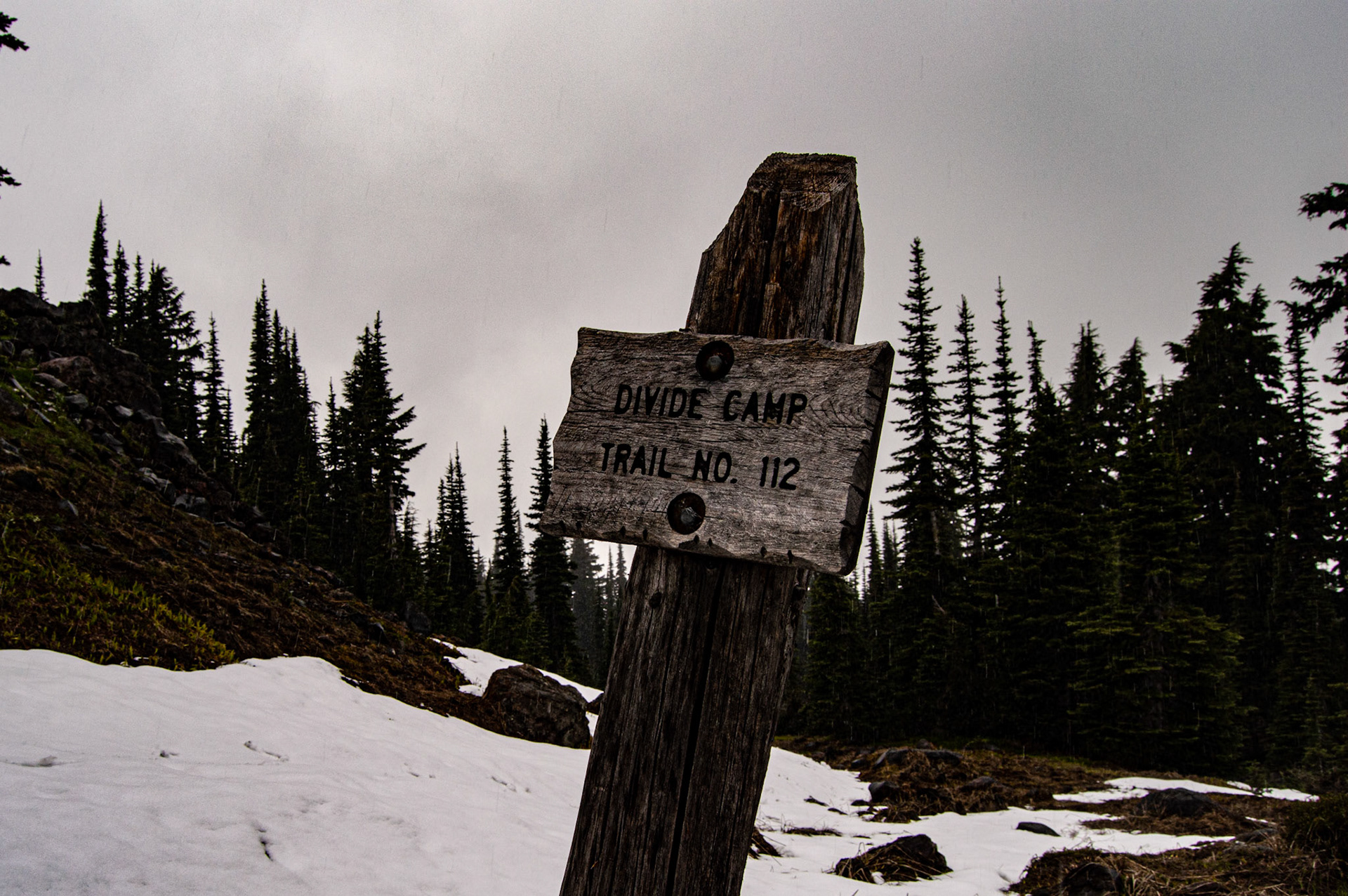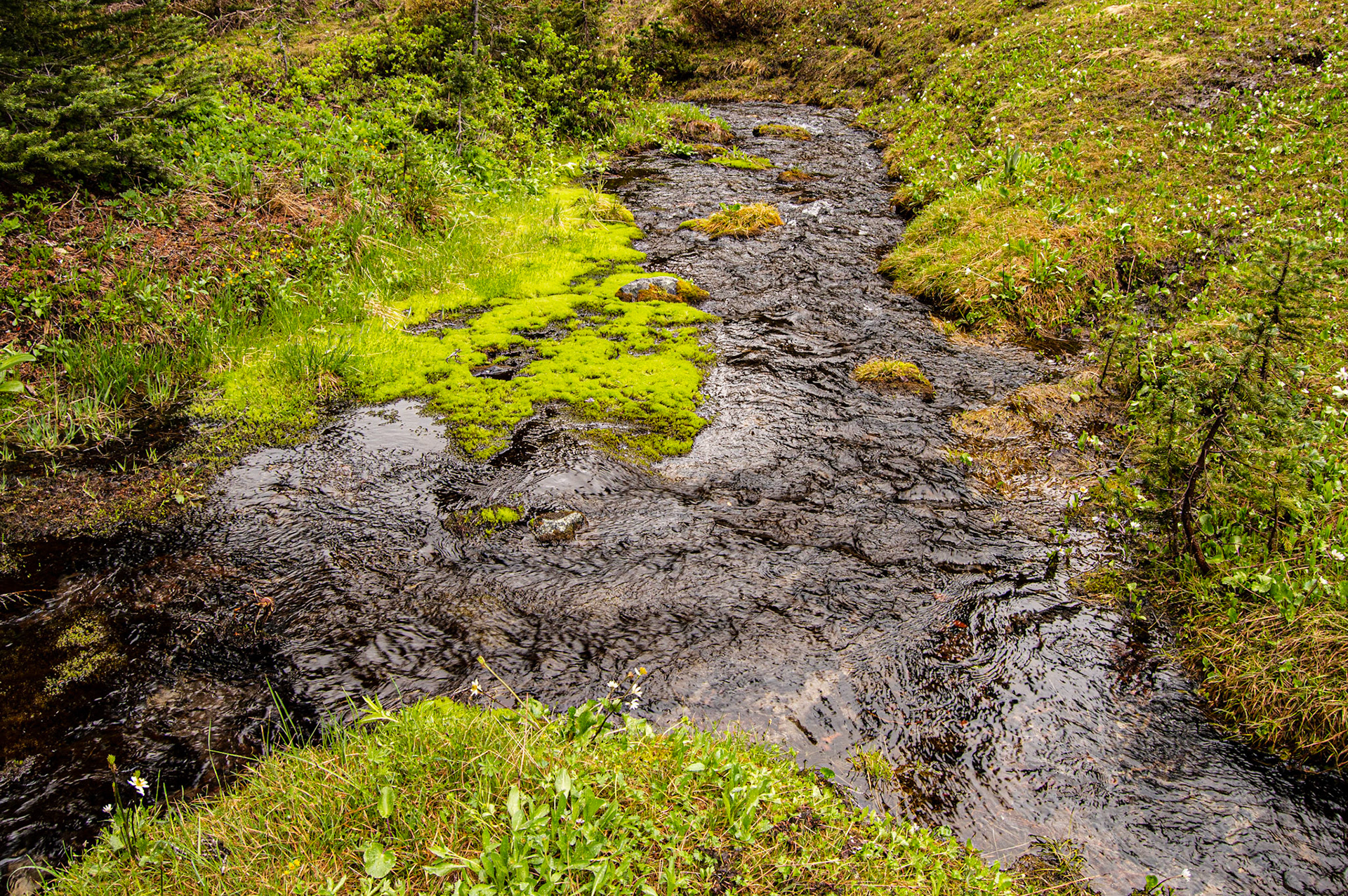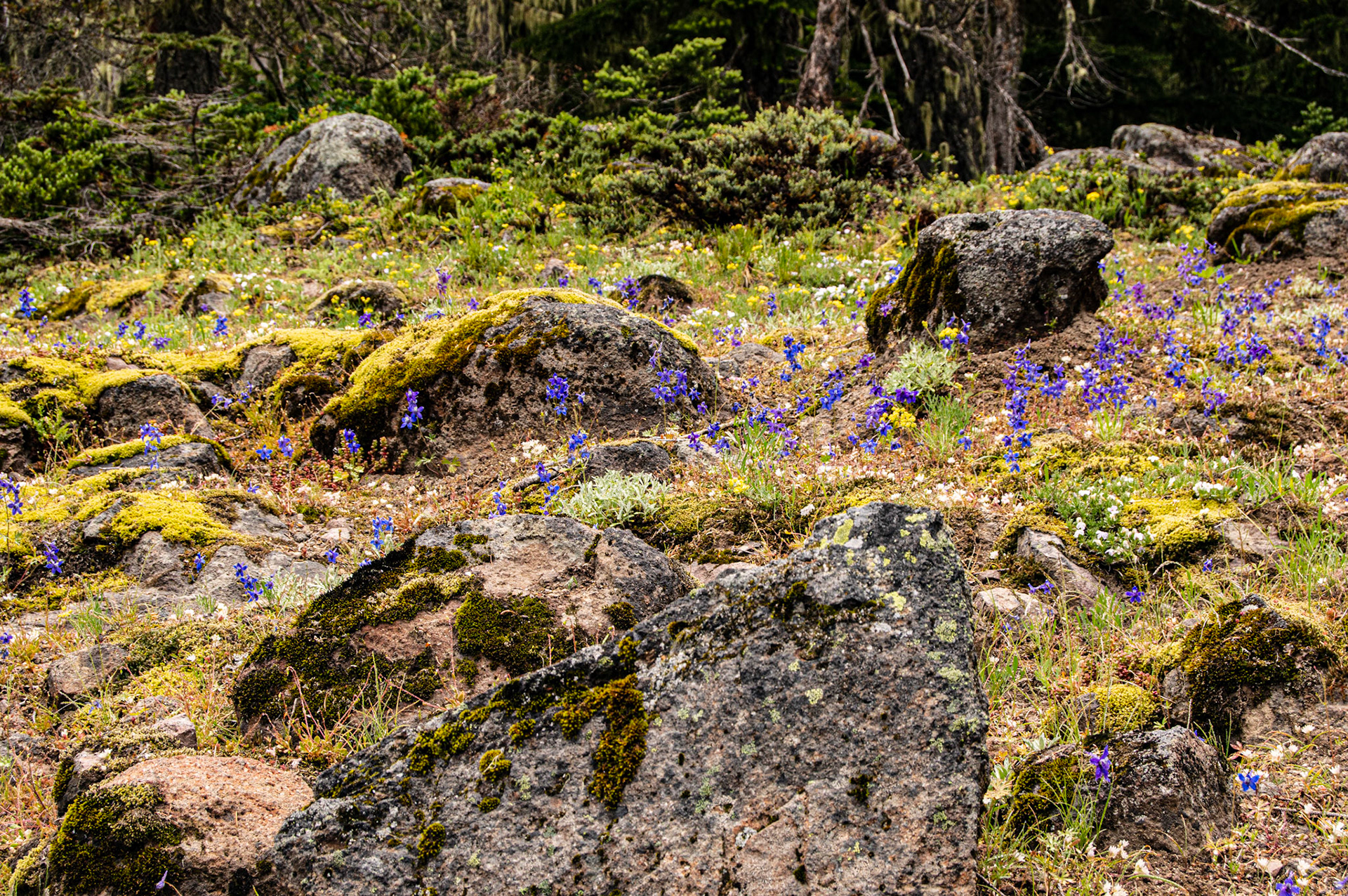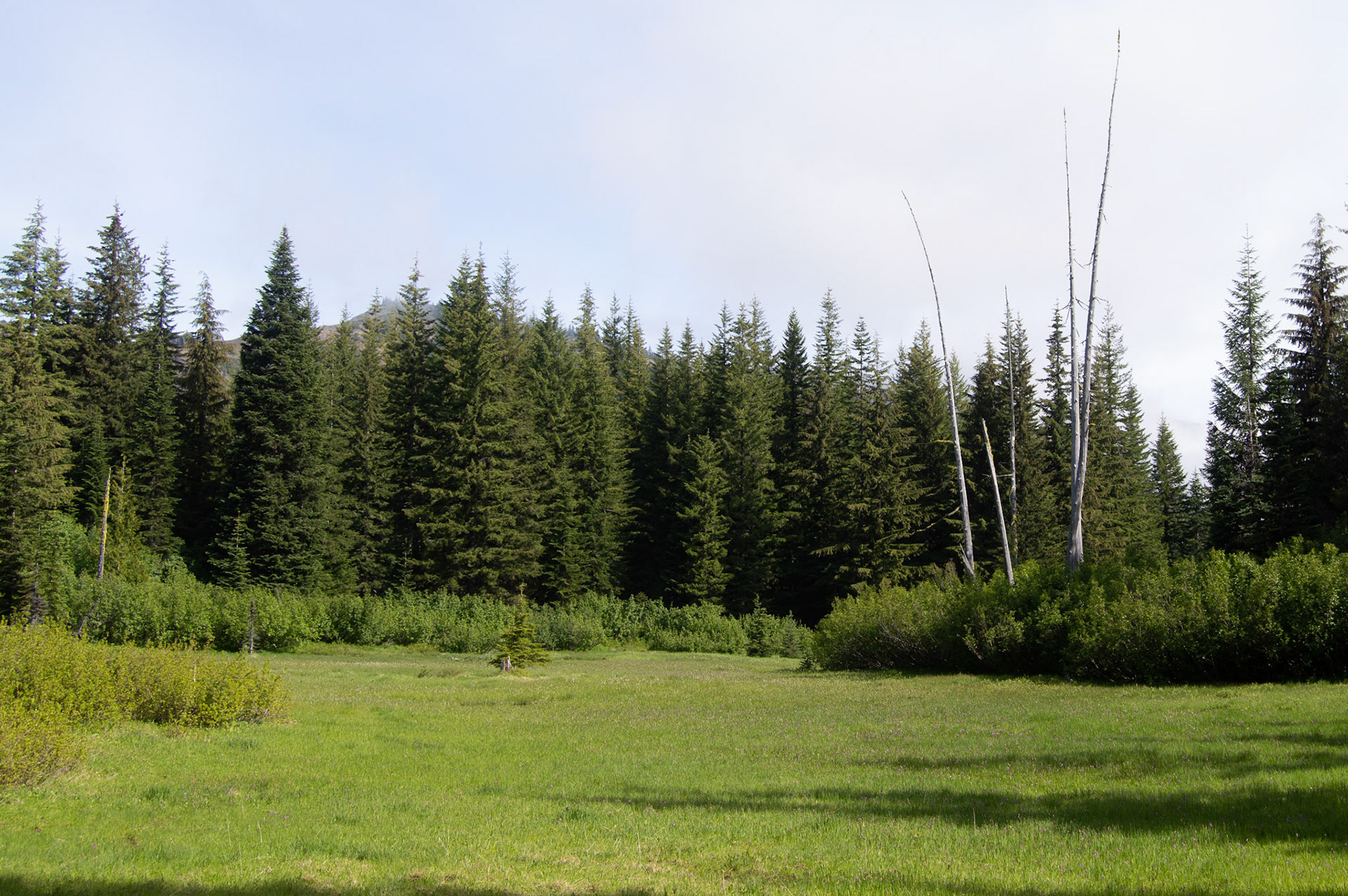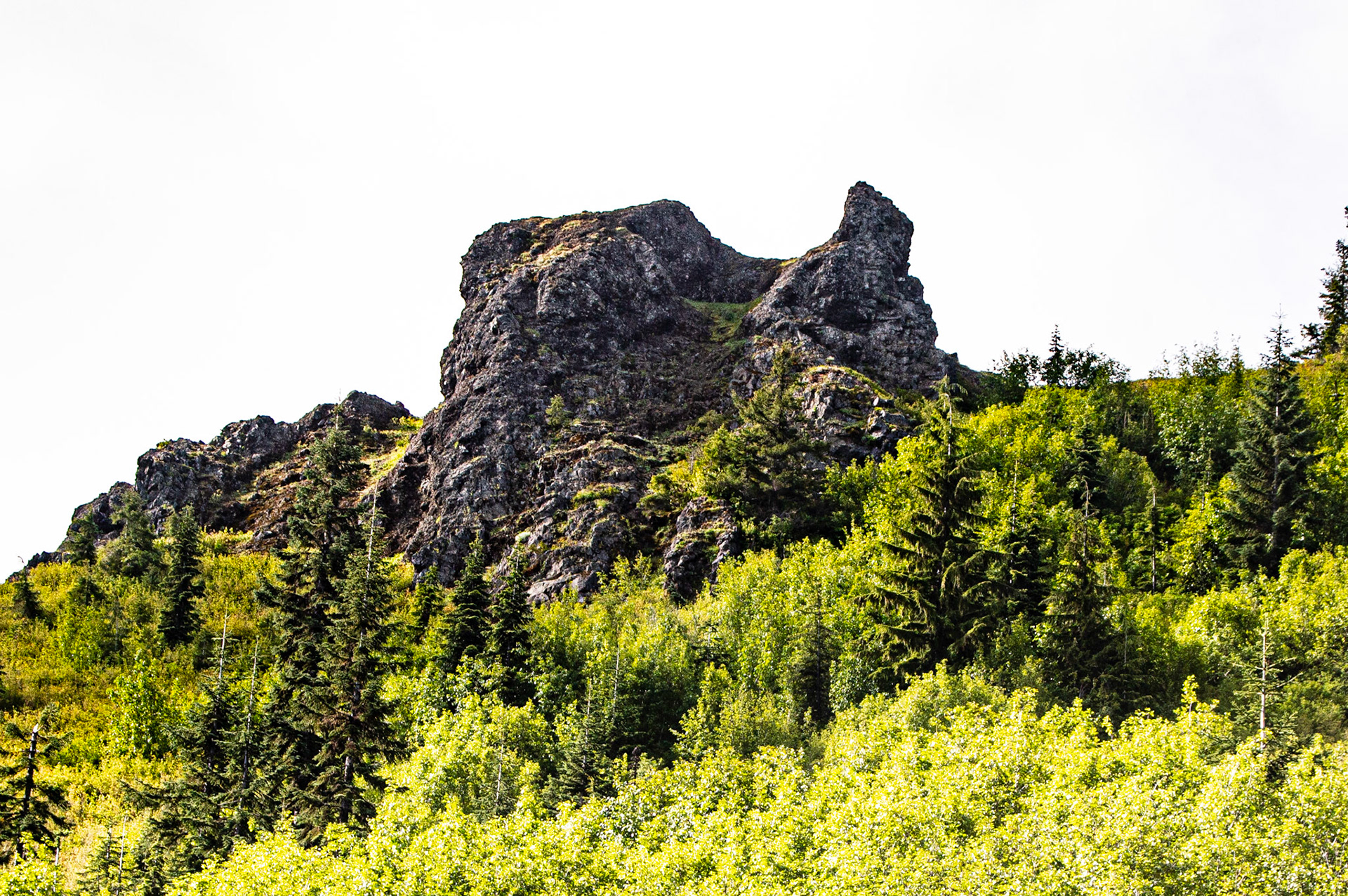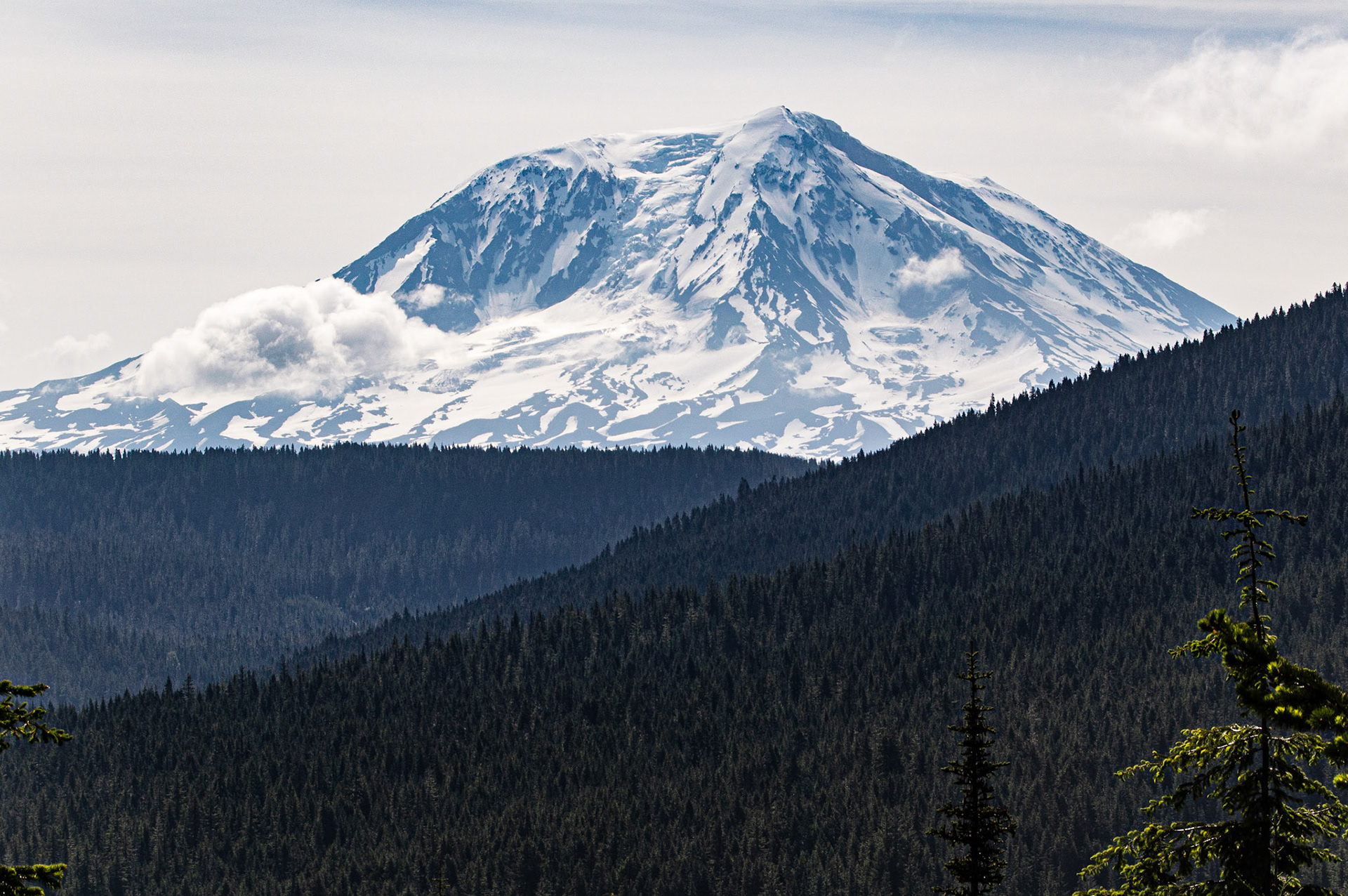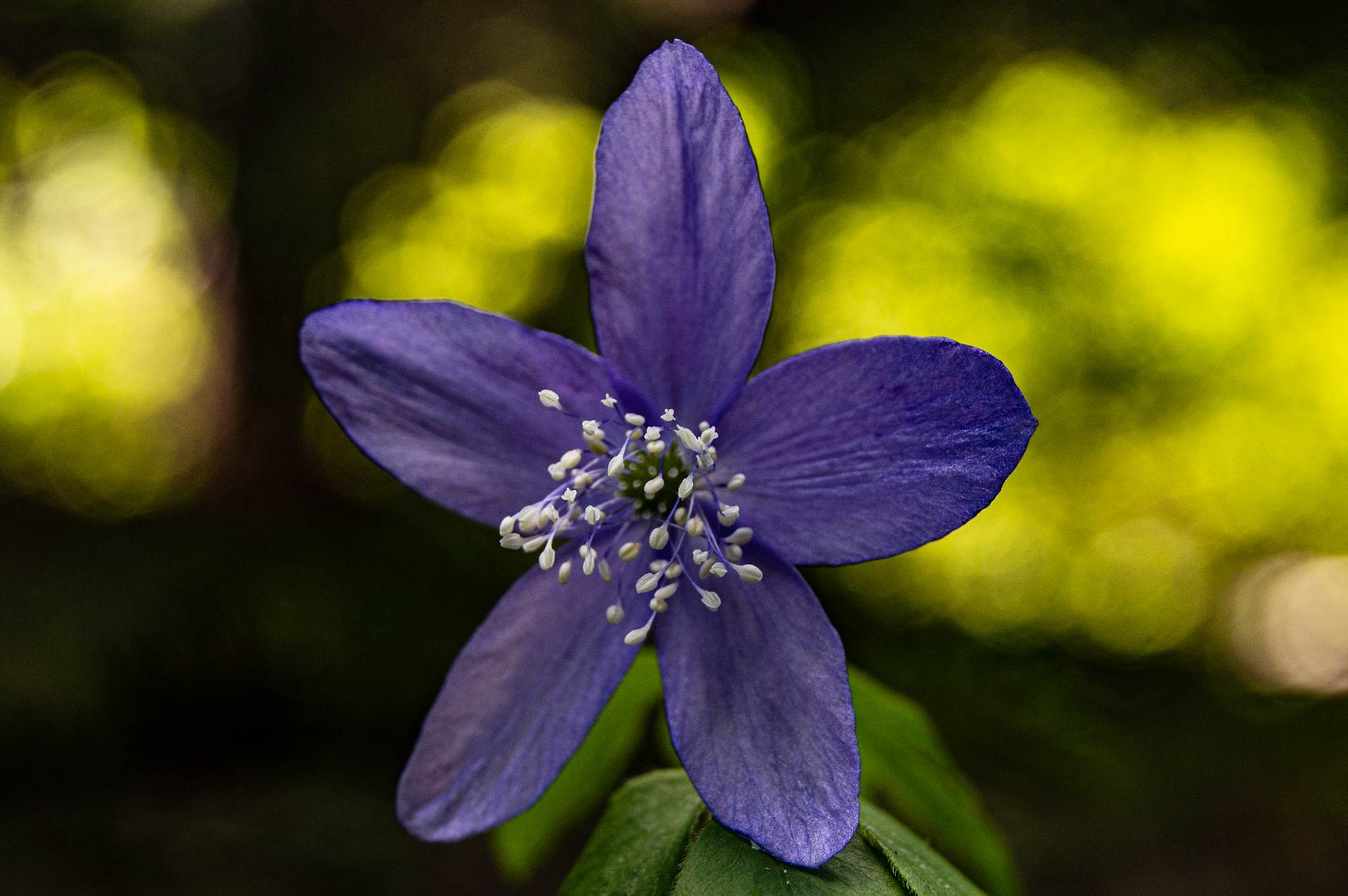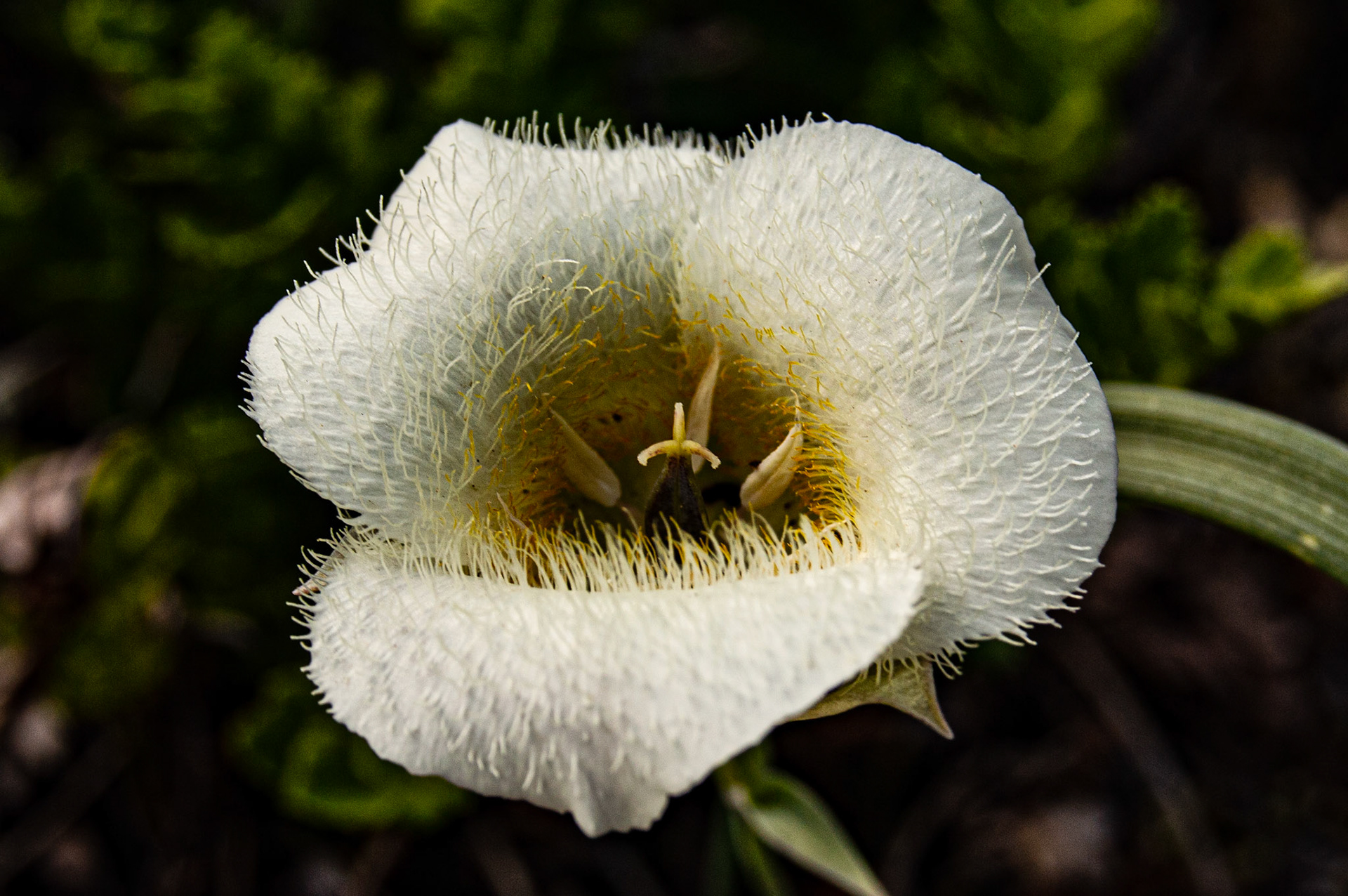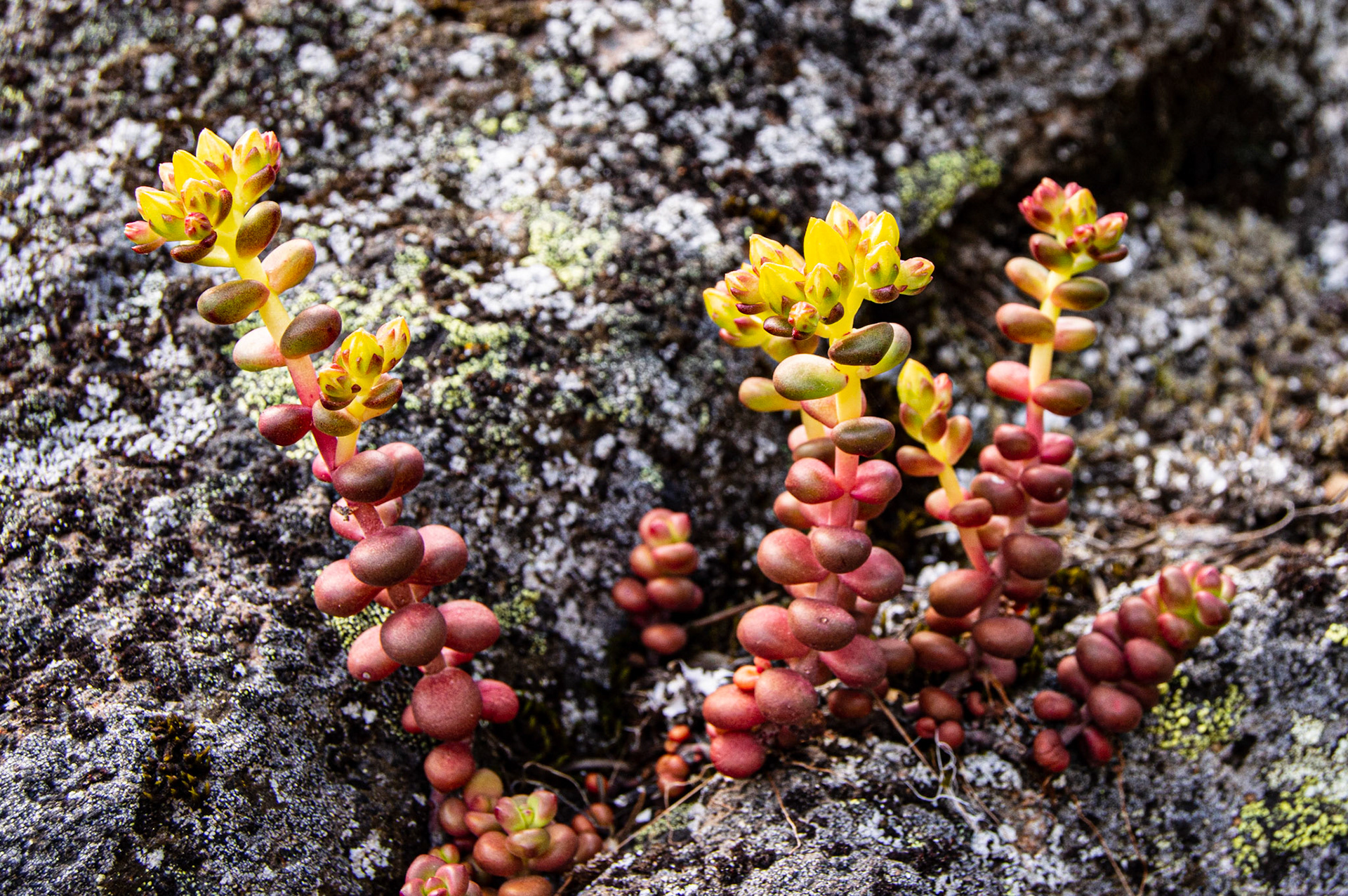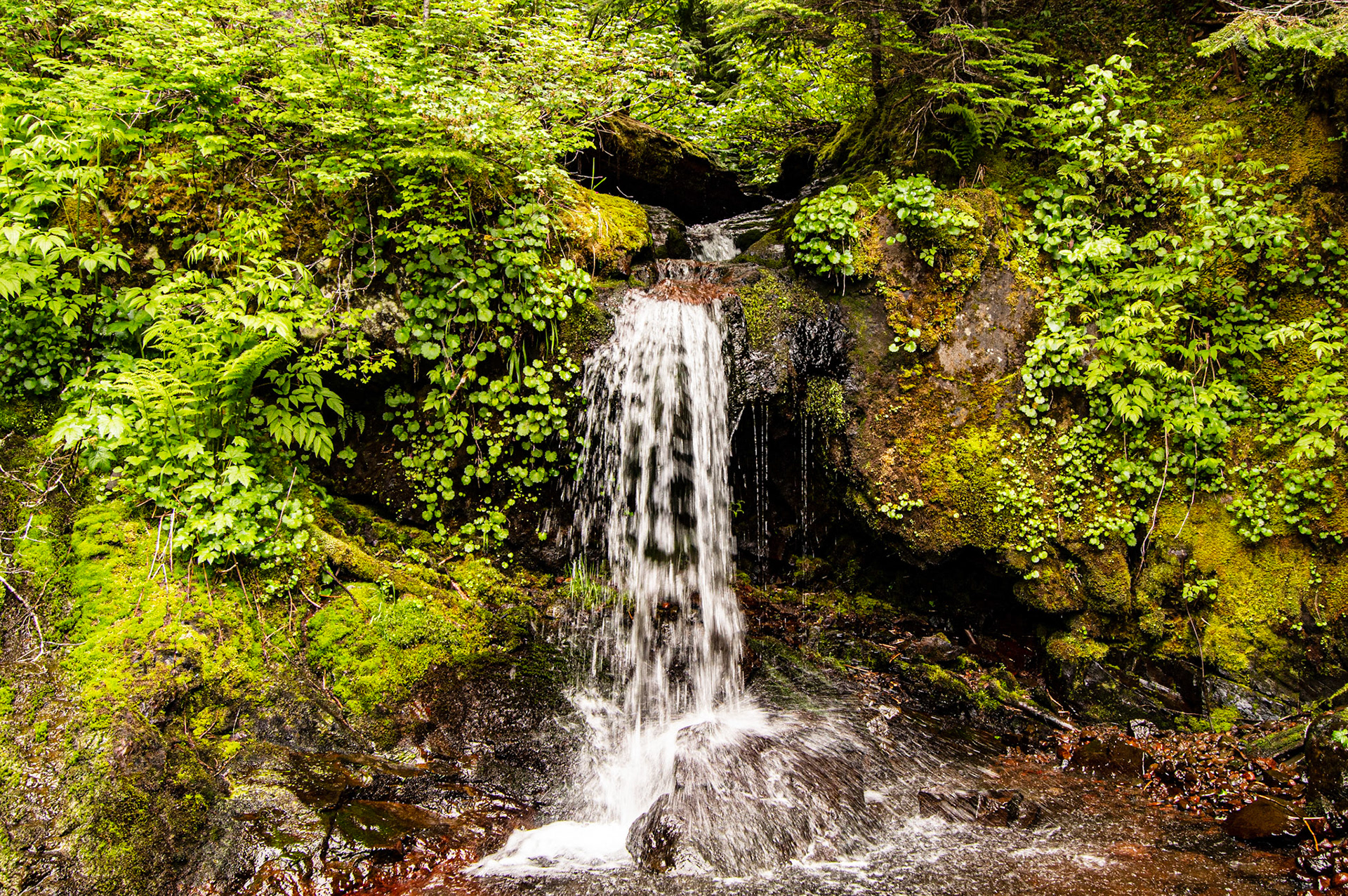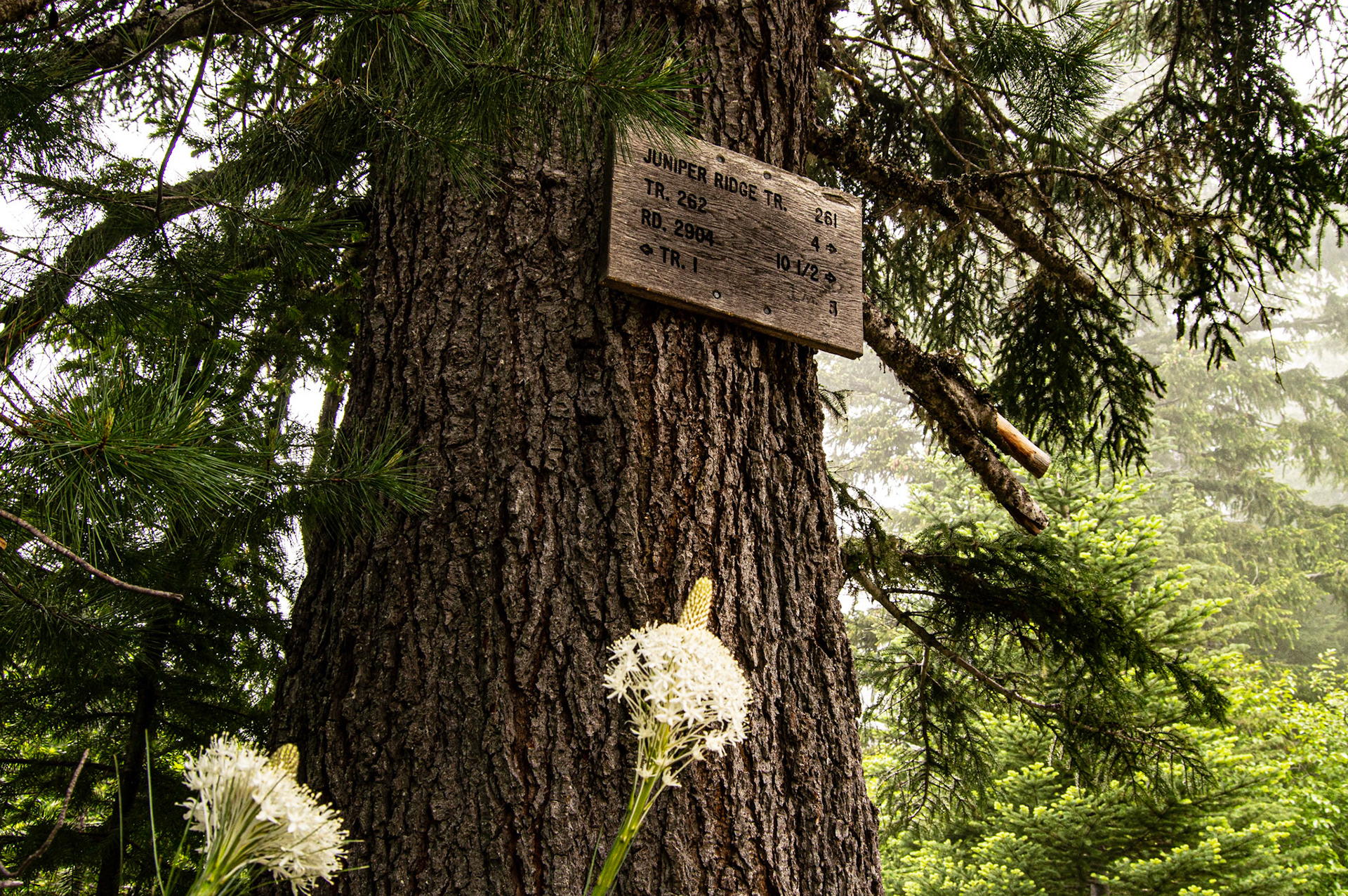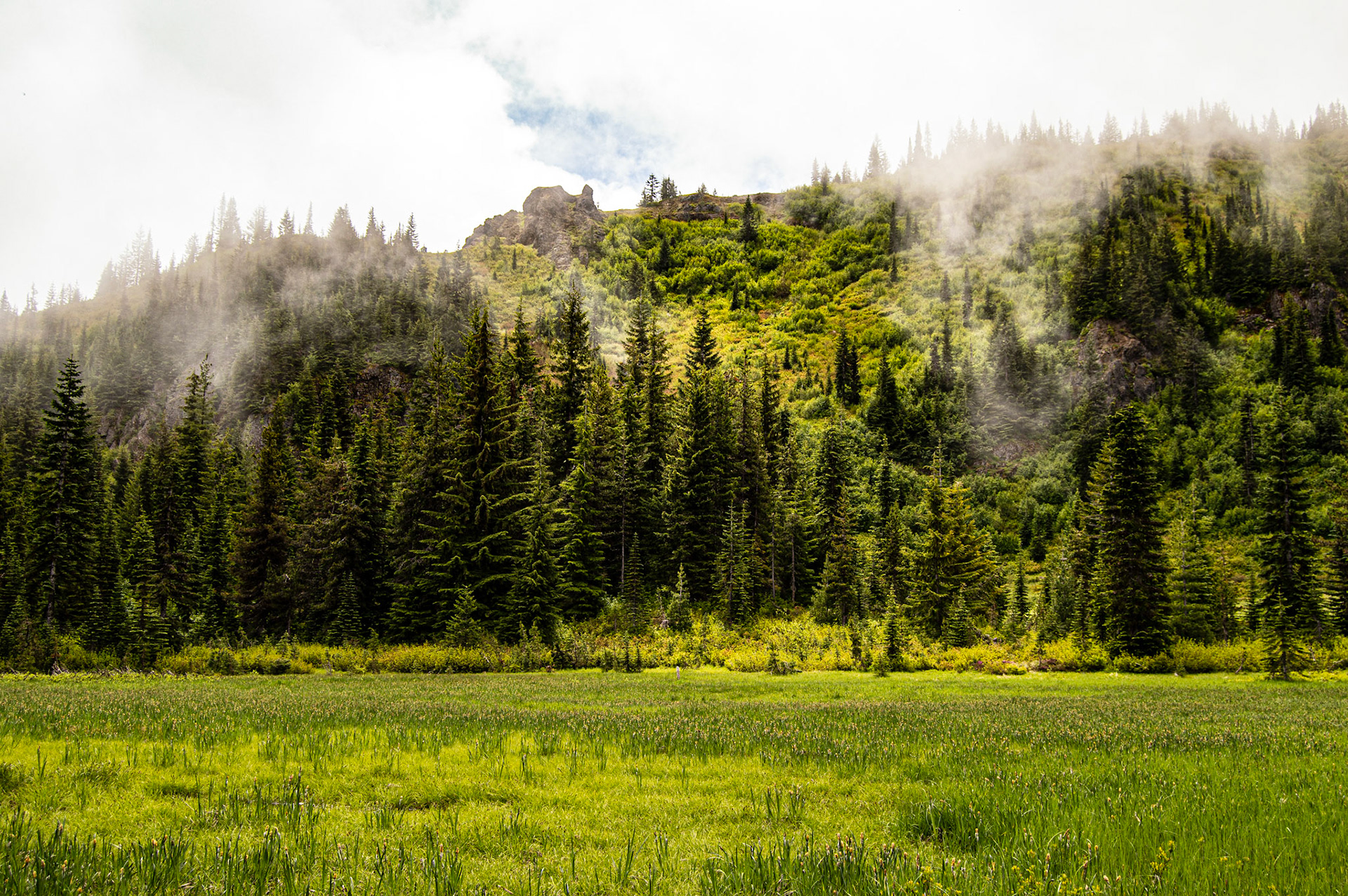 Continuing my efforts to hike the Upper Cowlitz watershed, I took a couple of days off work in celebration of the summer solstice, and headed to Council Lake. The weather was cool, damp, and grey - everything was socked in, and there were only a couple of campers up at the lake. I arrived in the afternoon, selected a campsite, and set up my tent. Looking at the time, I had at least another 6 hours of light, it was already getting on to 3:00 PM.
That seemed like enough time to explore the tail-end of the Boundary Trail, from the lake to the top of Babyshoe Ridge. Good trail, eroded somewhat by the motorbikes, it quickly led up to the ridge-line, and I followed the 23-335 Rd down and out to the summit of Babyshoe Pass. I had plotted a route that followed the watershed divide up along a low ridge-line to Takh Takh Meadow on the 2329 Rd. Arriving at Babyshoe, however, I realized the timber was too thick - it would be something of a struggle to keep to that ridge-line, and the ground-cover of thigh-high huckleberry promised to soak me down right quick. I retreated back to the 23 Rd.
I had a second plan, to follow the 23 Rd a short distance to a sharp corner where a creek comes down from the Takh Takh. On a map, the district boundary follows a line paralleling a stream up to a boggy spot alongside the trail between the lake and the meadow. I followed this line, and in just a few minutes, I was stepping on the ever-so-helpful branches of a brace of slide alder growing on the bog's margin, and onto the trail. The climb up was not difficult at all, the timber thin enough to maneuver in, and the huckleberry was sparse enough I could stay mostly dry. In another couple of minutes, the trail had delivered me to the 2329 Rd, and I was on my way for the Divide Trail trail head.
I had not been on the Divide Trail before, but much like the Killen Creek trail, it makes a beeline straight up the mild slopes SW toward the PCT, passing thru gorgeous high-, dry-country timber between Adams Creek and its West Fork. It wasn't too long before I hit my first patches of old, soft snow, and by the time I had climbed up to the end of the trail at the PCT, elev. 6000', I realized I would be going no further. It'll be a few more weeks before the PCT is melted out at these elevations.
I snapped a few pics, and immediately turned about. My internal clock was telling me to scoot, but I knew I was prepared to be out hours after dark, if necessary, and it wouldn't be dark until 10:00. It was only 6ish. Heading back down, I quickly arrived at the trail for Divide Camp. I thought it odd a camp would be a quarter mile down the trail, but I thought WTH, and turned off to see what's up. The map showed a spring nearby, but did not show the camp location, so I was curious. Of course, they're next to each other, which makes all the sense in the world. Here, the spring pours out from under the toe of a lava flow - the freshest, prettiest water you ever did see! The nearby camp offered a fire pit, and a few good hang-sites for a hammock. The area was open timber, meadow-y, and dry.
I retraced my steps down the slopes of Mt. Adams, along the 2329 and Takh Takh trail, thru the x-country shortcut, and back along the 23 and 23-335 to Babyshoe Pass, and along the Boundary Trail back to camp. Now, it was getting dark, and I had just enough light to get my kitchen together and start water boiling. I ate dinner in the near-dark, so around 10, feeling thankful for having the foresight to set up my tent before I went hiking.  The campground was quiet, the air calm and damp, and I had no trouble settling in to sleep. It rained overnight, and the floor of my tent was wet.
The next morning, the first day of summer, I enjoyed a leisurely breakfast of scrambled eggs w/ bacon and dirty chai, hitting the trail by 10:00, bound for Dark Meadow. I was packed to spend the night, needing only water and a good hang site - and therein lay the challenge.
The Boundary Trail follows the boundary between the historic Rainier and Columbia National Forests. Rangers on horseback from both districts would use this trail to access other destinations deep within their respective districts. It is now well over a century old, and currently extends roughly 55 miles from the western trail head at the Hummocks, MSHVNM to Rd 23-335 on Babyshoe Ridge above Council Lake. Largely a ridge-line route, it offers lots of elevation gain, some incredible views, and very little water. In my travel along the trail, I found no established campsites, and only a couple of creeks - which may likely be dry by high summer.
Stopped for a short, late lunch at Summit Prairie, where there was still quite a bit of snow, the wind had picked up, and things were getting damp.
I had expected to camp somewhere near Dark Creek - the map shows it originating just above the trail, so I hoped to find someplace near that to stop for the night. Dark Creek was well... dry. I could hear water flowing just down from the trail, thru some tangly brush... so I walked on, as there was no campsite to be found. There was a lake ahead, though. The lake was, well... a bog, and the water not so inviting. Also, no campsite. So on I marched, to Dark Meadow.
Trail 261 for Juniper Ridge splits off after you get to the meadow area, and there are two lakes shown on the map. Again with the bog-water and no campsites. I snooped around a bit, and found a side-trail, it was faint, but had seen regular traffic - aha, I thought, campsites will be down there. No luck - no water, no camp... but the trail kept going down. And down. And down. I was helpless. Gravity, and a desire for fresh water, pulled me inexorably downhill, all the way to a road - and a real creek!
My map showed I was at Dark Creek, on the 2325 Rd. There was a little fire-ring in a camp area, offering two trees perfectly placed for a sweet hang. The ground was carpeted in vanilla leaf and trillium, and the firs filled the air with sweet resins. Dark Creek cheerily sang a little song. I had made the right decision, and would deal with the 600' of elevation I had wasted in the morning. My map showed this road continuing on and back to the 23 Rd, but not before it passed suspiciously near a location on the Boundary Trail where I had noticed, and way-pointed, an un-marked side-trail. The map made it look as if, were there a trail, it would be right there. Would it work to follow the road and hook back onto the Boundary Trail this way? That side-trail was not on either my paper or electronic map, so I played it safe, and re-traced my route. I did not relish the climb back up.
Turns out, it wasn't such a big deal, and within 45 minutes that next morning, I had arrived back at Dark Meadow. This time, there was a view! Yesterday's clouds and mist had broken to reveal mountains all around. Most prominently from the meadow, Dark Mountain. What a gorgeous area! I can't wait to explore more up here. From Dark Meadow, the Boundary Trail continues on to the west and toward Shark Rock and Elk Pass. I was headed back to Council Lake, however. The return trip provided quite a few great views, and a number of motorcycle encounters. They were all courteous, however, and after just a few minutes, their stench and noise faded away. I encountered only two hikers. They appeared very lightly packed, as if out for a short day-hike. It was early, and they were fresh as daisies, but they were nowhere near a trailhead. As the morning wore on, and I put miles under my shoes, the weather brightened and warmed. I stopped
It felt like that last slog up Council Bluff to the Council Bluff trail was going to last forever, but finally I was striding down the last descent toward the lake - and a whole bunch of campers. Pretty near every camp site was full. There was one empty site on one side, and a couple from the Puget Sound area on the other - they were polite and quiet, and immediately set off in the dusk to fish for a while, catching nothing. There were campfires all about, and the sounds of happy folk filled the campfire-smoke-tinged air. There's always a loud drunk in any campground, tho, so I was a little longer in passing out than I had liked. It started raining sometime before midnight, but only lightly.
The next morning, I was up, camp broke, and had hit the road by 7:30 - very early for me. I wanted to find my way to the campsite on the 2325 Rd. My map showed the road closed by washout - which I found to be true. Parking near there, literally on top of Summit Prairie Creek, I walked the rest of the way down the road. Along the way, I found a good camp site on ridgeline, complete with age-old box-privy, unused for years. I encountered that trail I had wondered about - signed from this end as #258. It appeared to continue across the road, but was marked as illegal (for motorbikes?), and while I followed it a short way, I turned back quickly. It seems that it might hook down to the swamp near where I camped, and near where I found yet another trail marked illegal. I suspect they're the same trail comprising a loop around Dark Creek.
Continuing past my campsite, I made for the end of the road, where I suspected a trail might connect me to the Dark Meadow Trail, and then to the Juniper Ridge Trail #261 back to Dark Meadow. The road does indeed transition to trail, and soon heads up Dark Creek to the Juniper Ridge Trail, and after just a couple of hours, I was back at Dark Meadow, and making a third gorgeous transit along the Boundary Trail. This time, I turned off at that way-pointed side-trail and followed it down to the 2325 Rd.
By the time I arrived back at my truck, all I could think about was that Logger Burger w/ Fries and Jumbo Huckleberry shake at the Huff-n-Puff in Randle. Damn, they do a good burger!
In total, I hiked 55 miles w/ 9,497' feet of gain over four days.
Images taken June 20-22 along the Divide and Boundary Trails, GPNF.