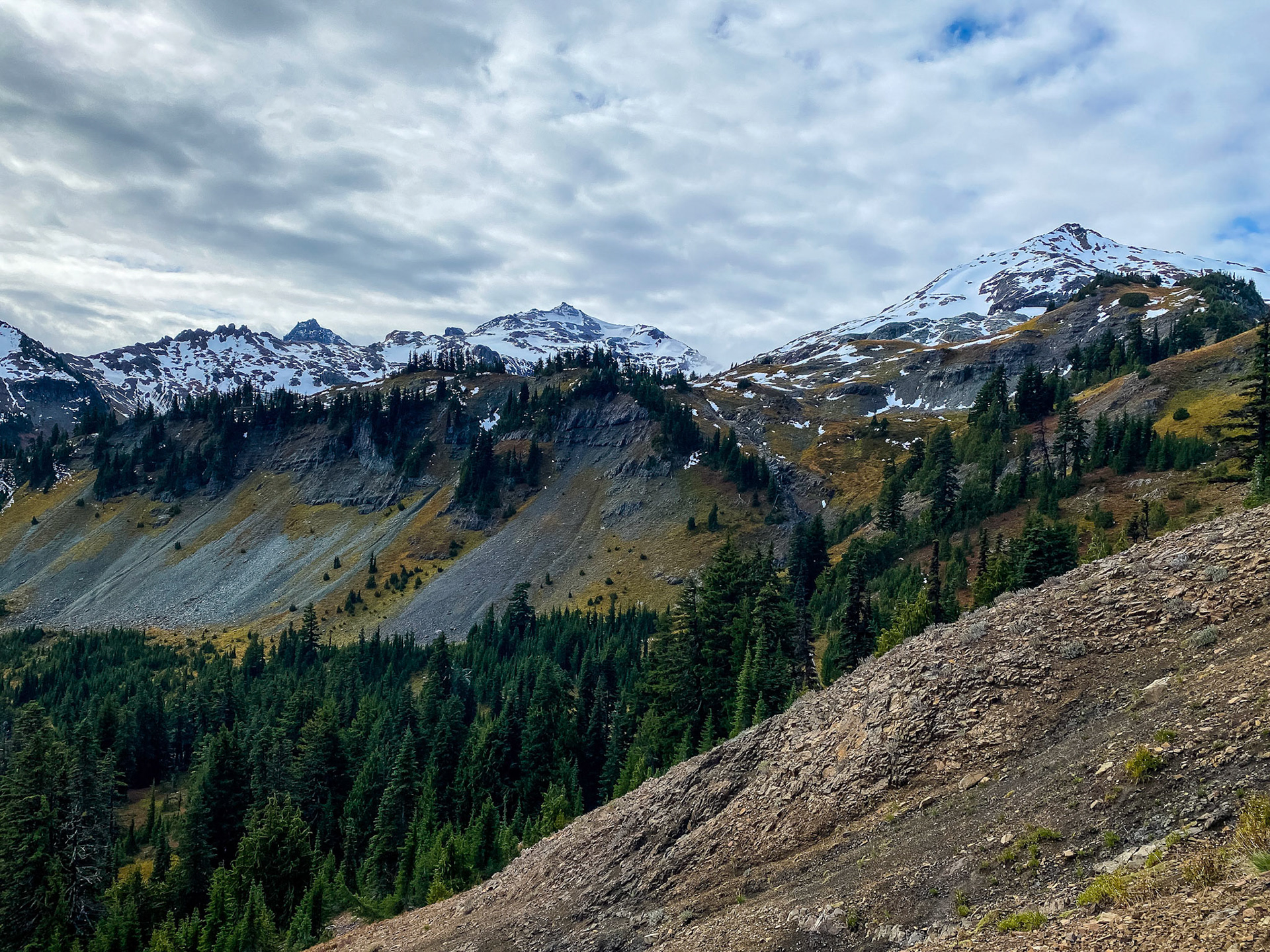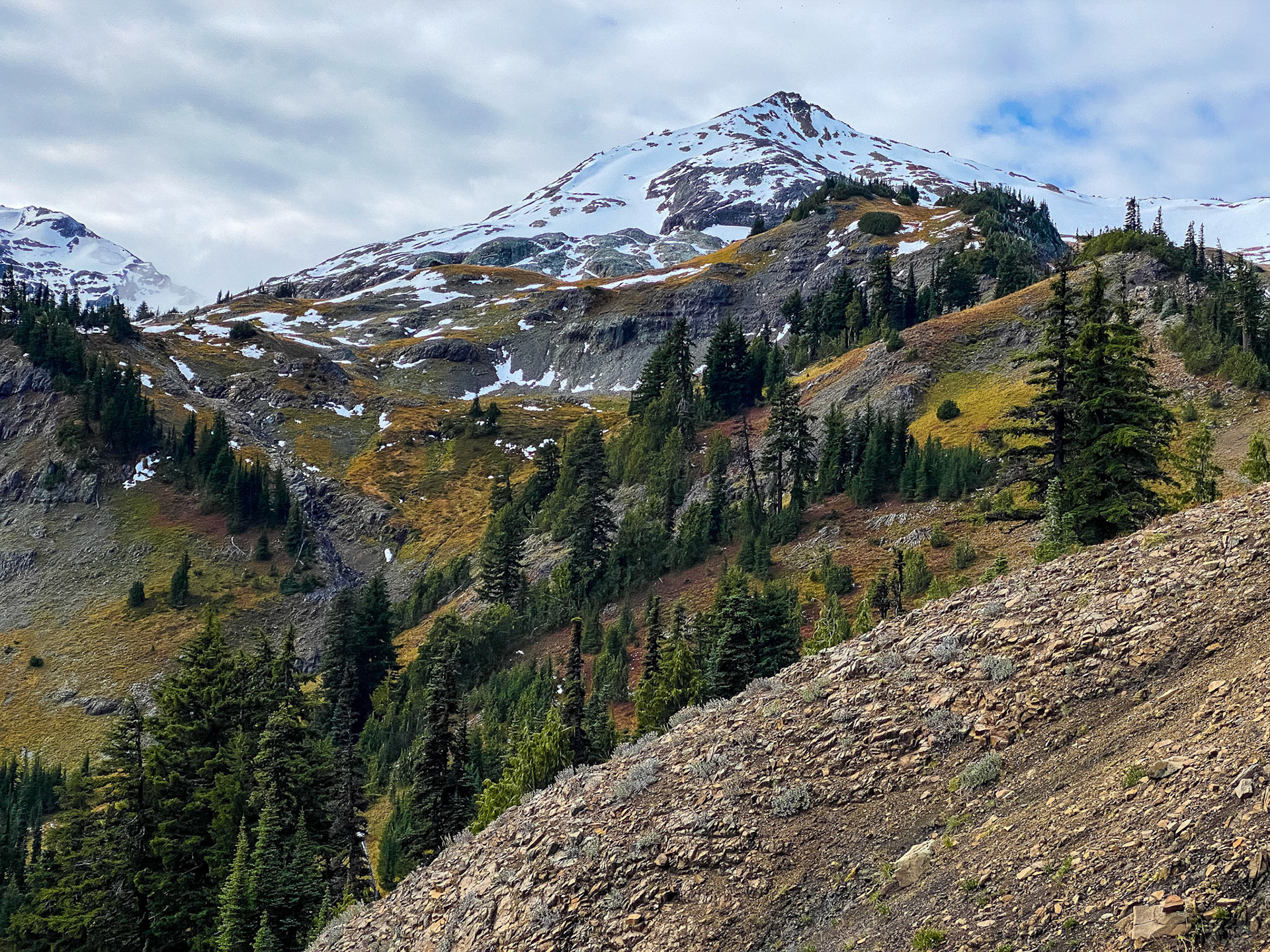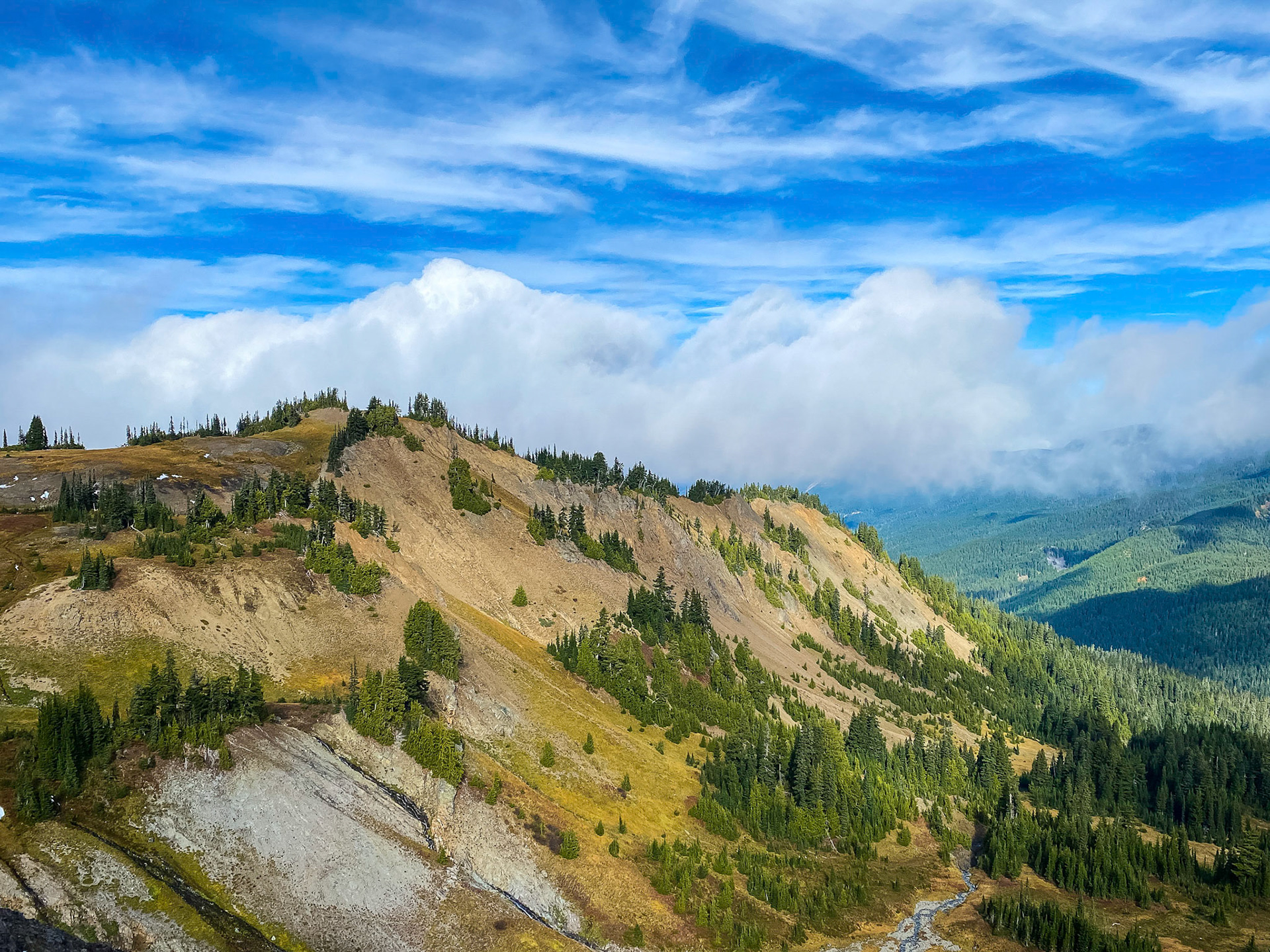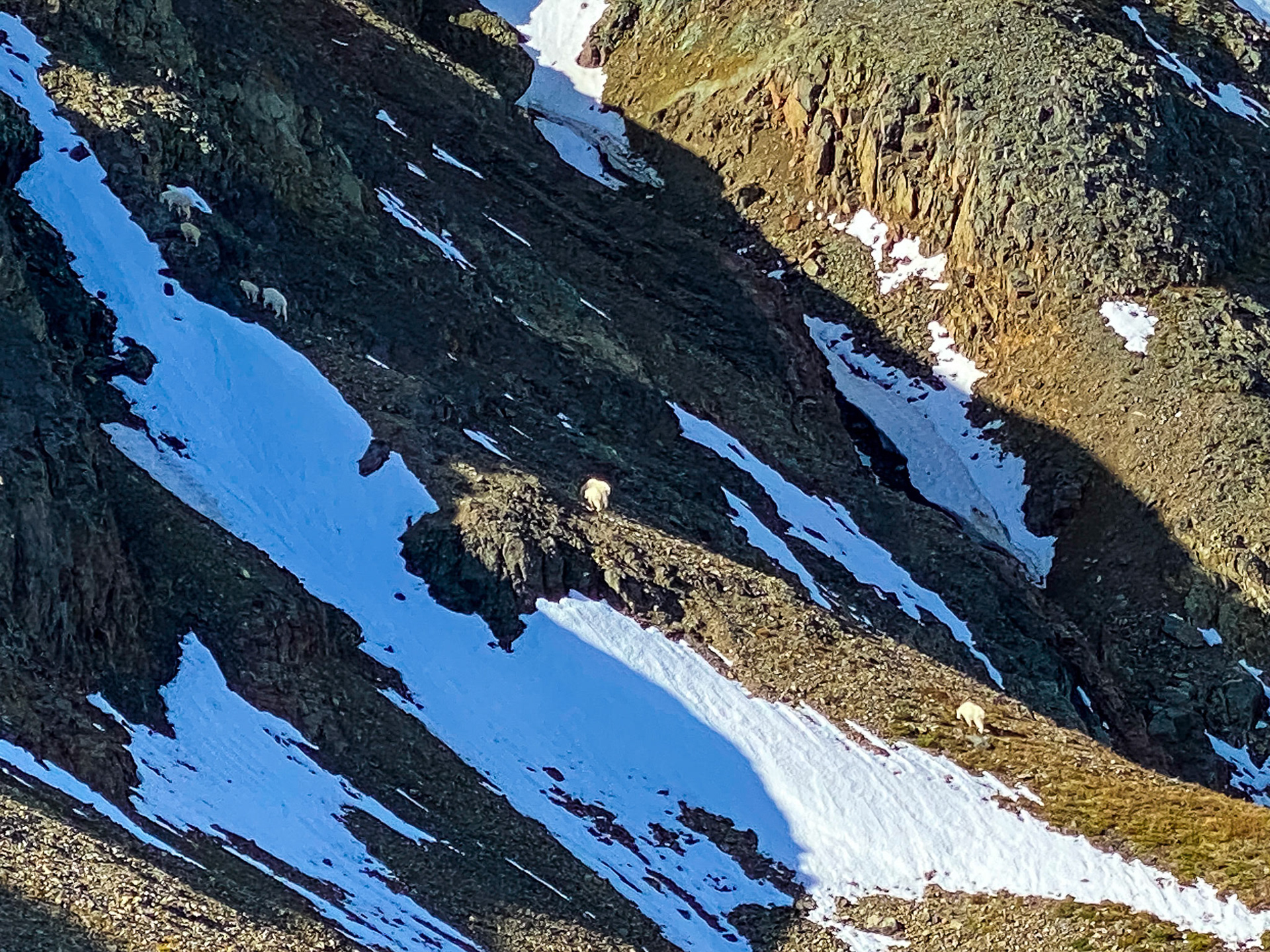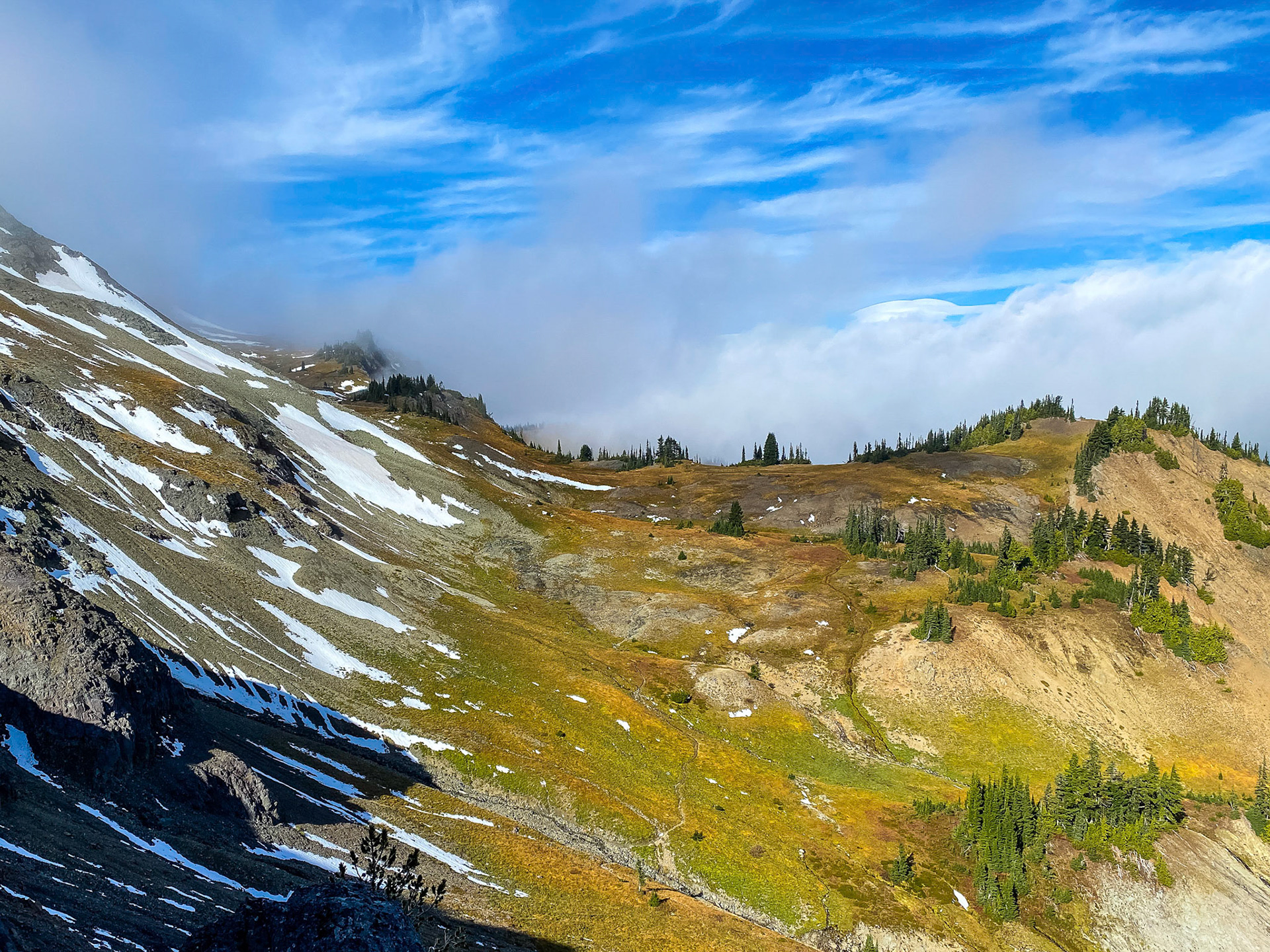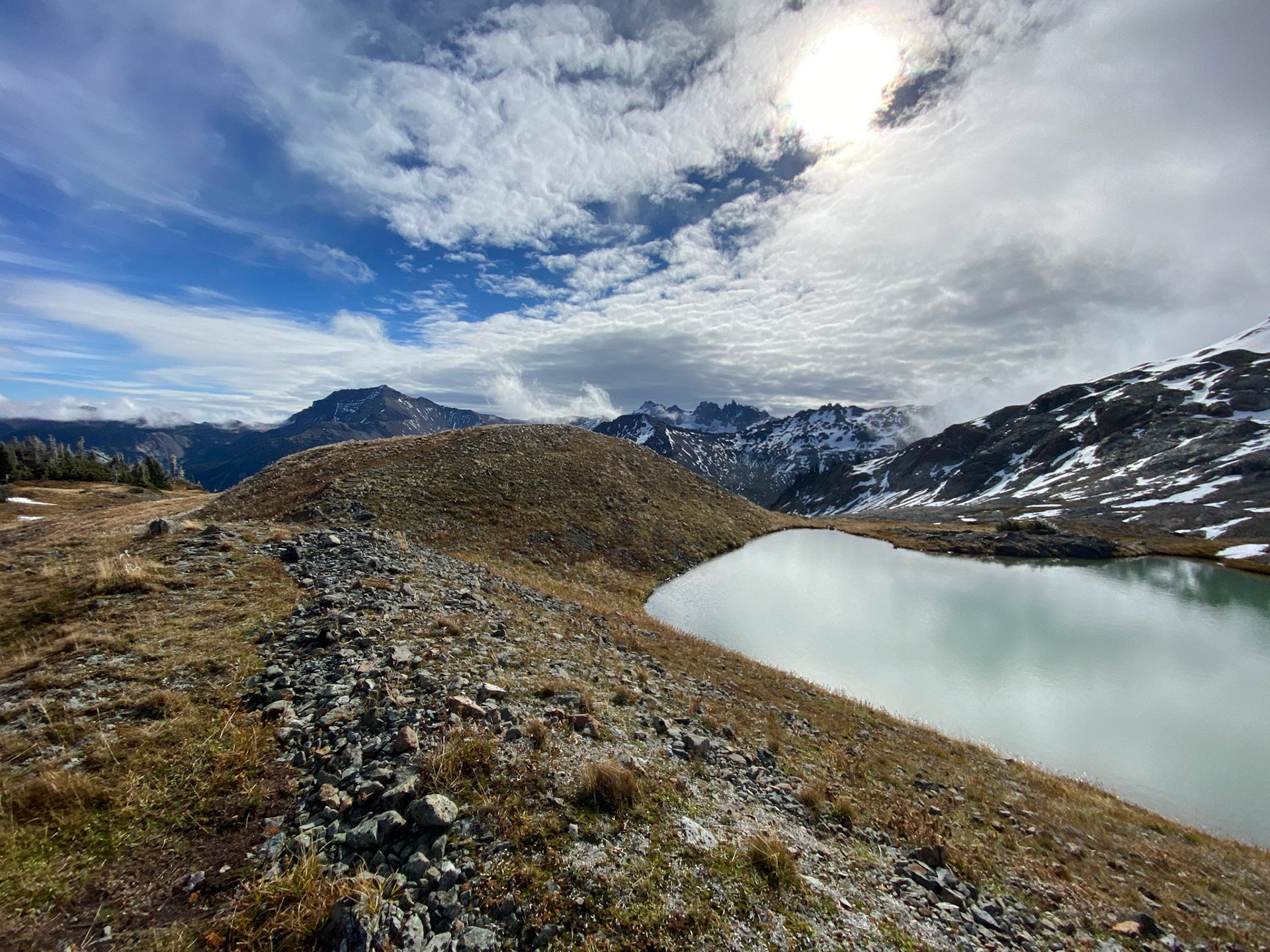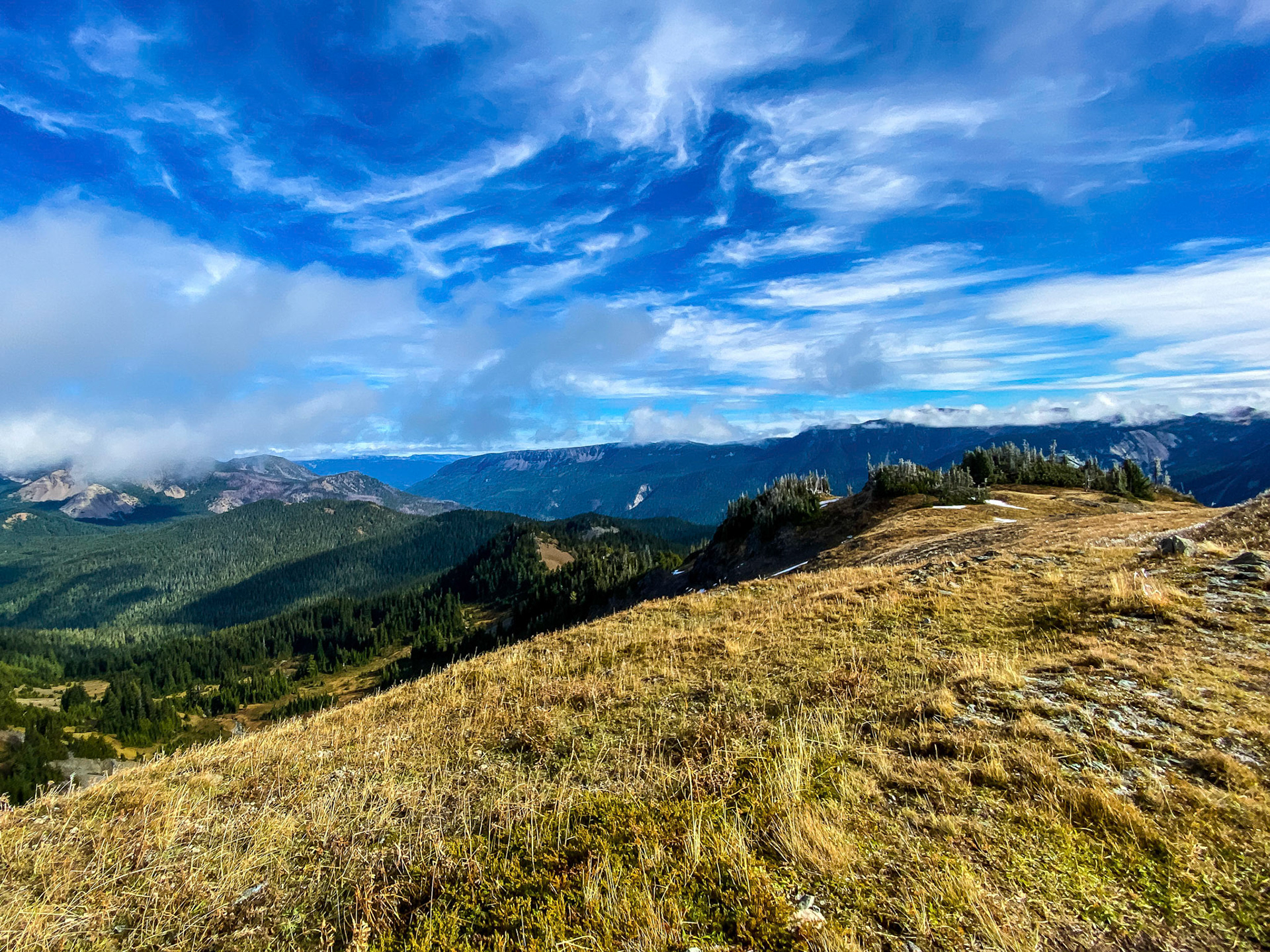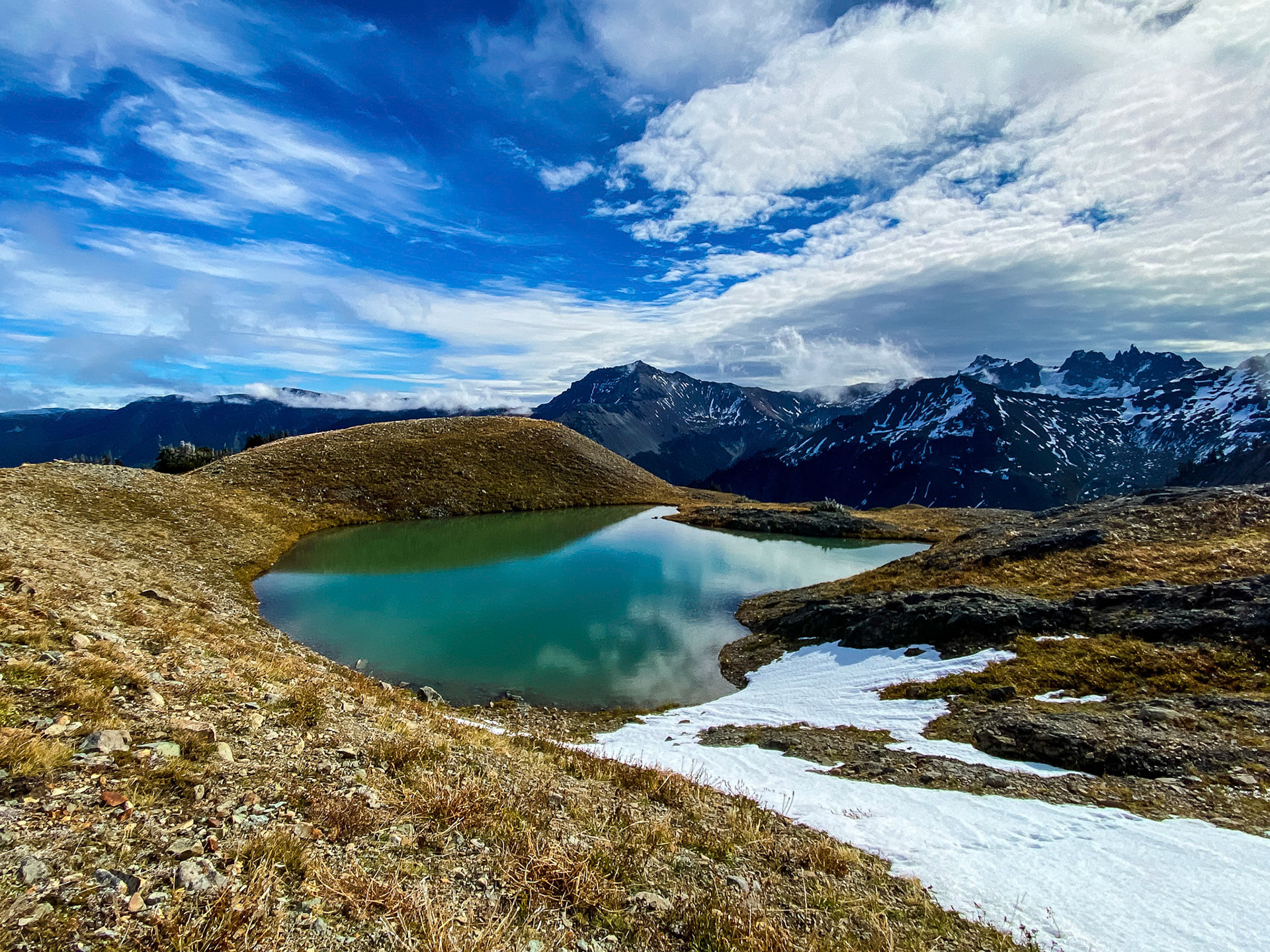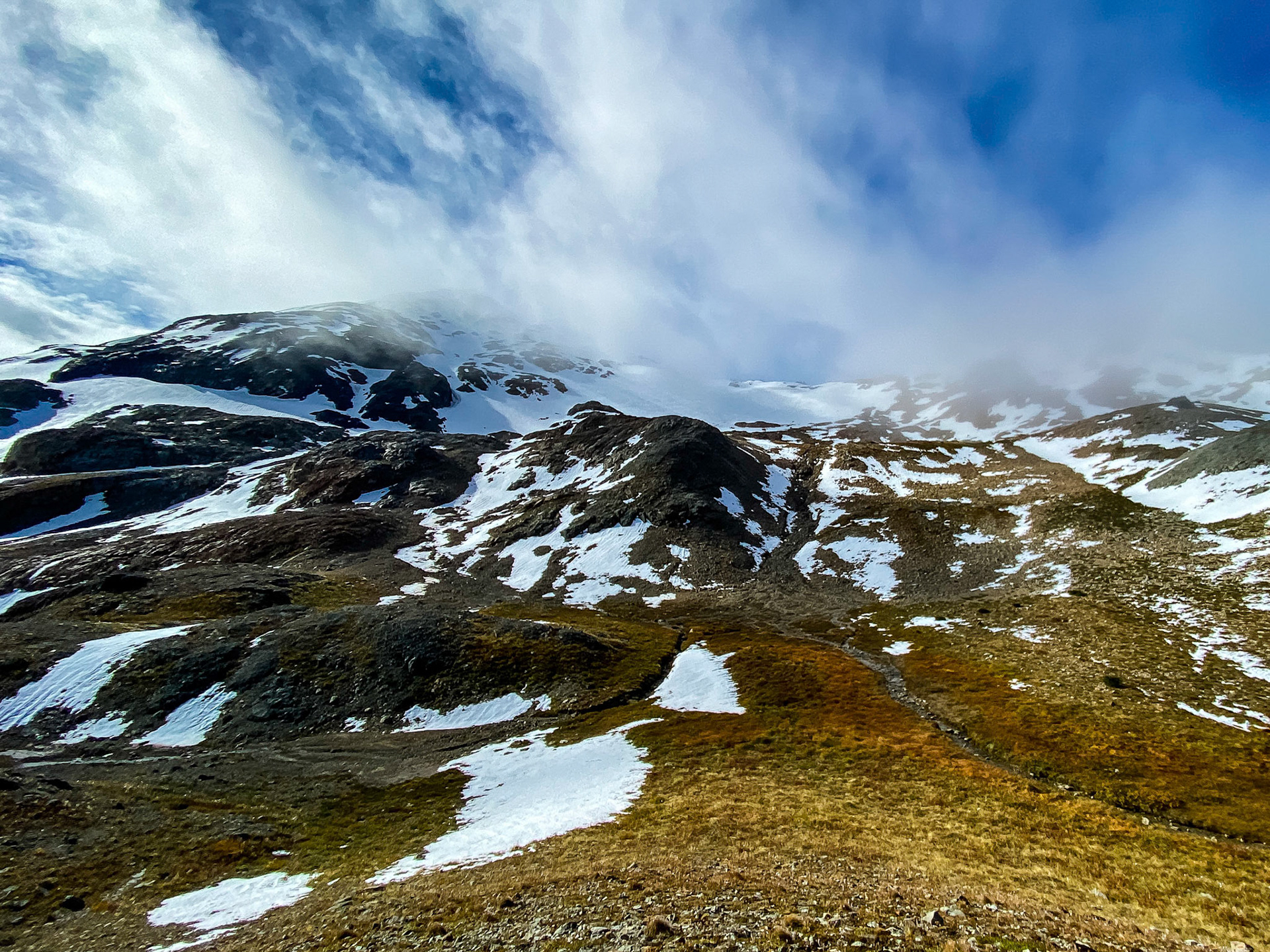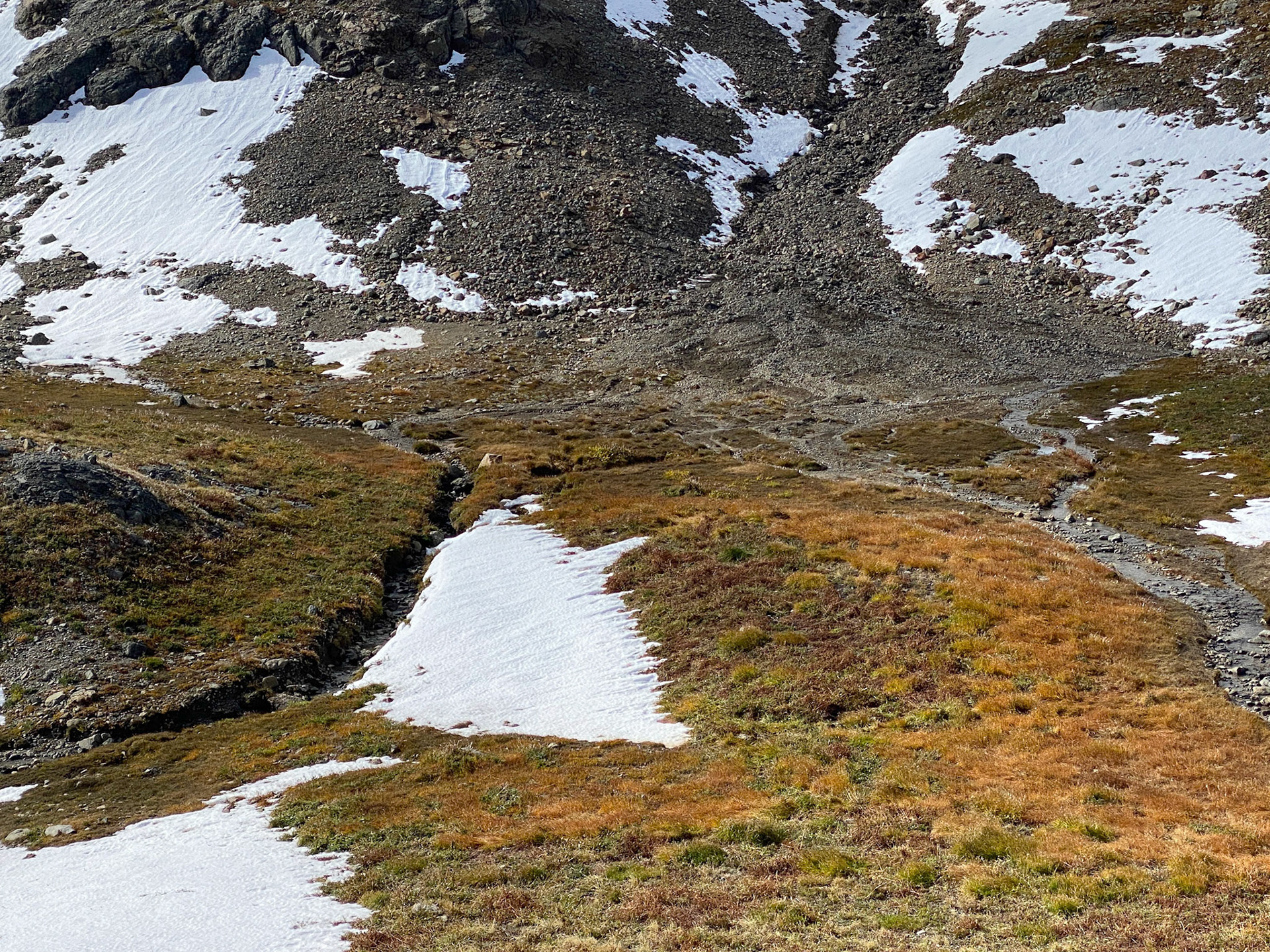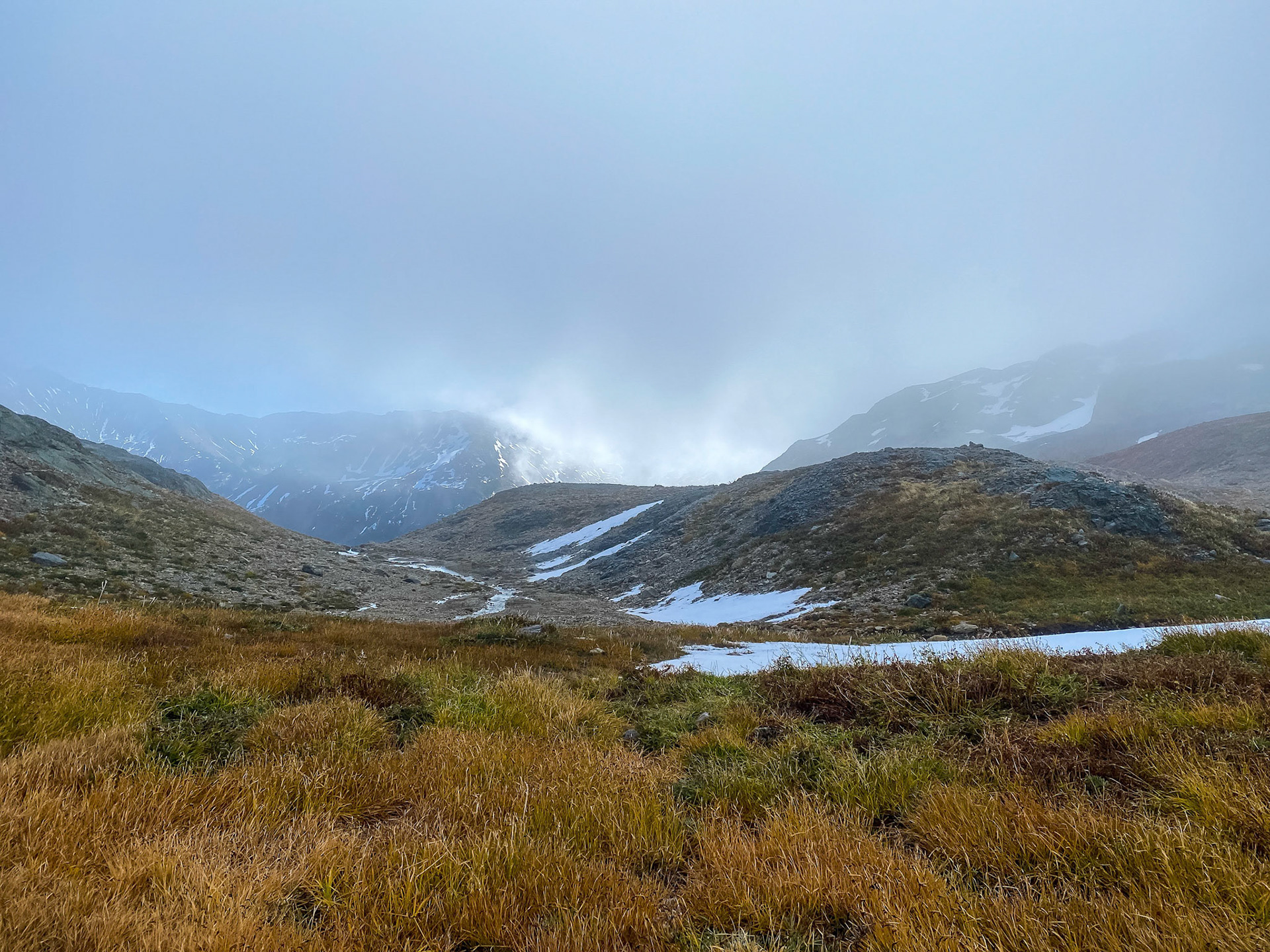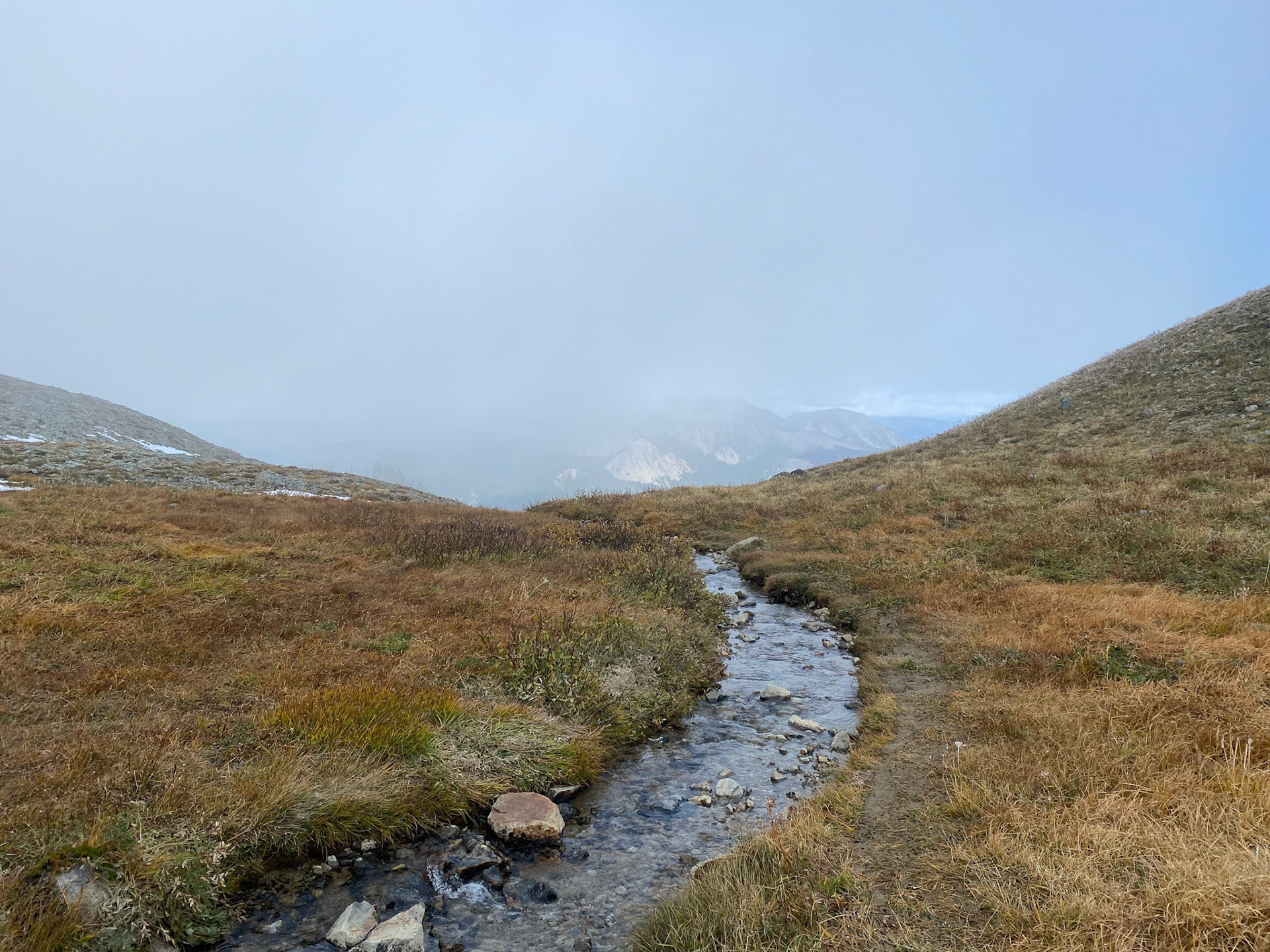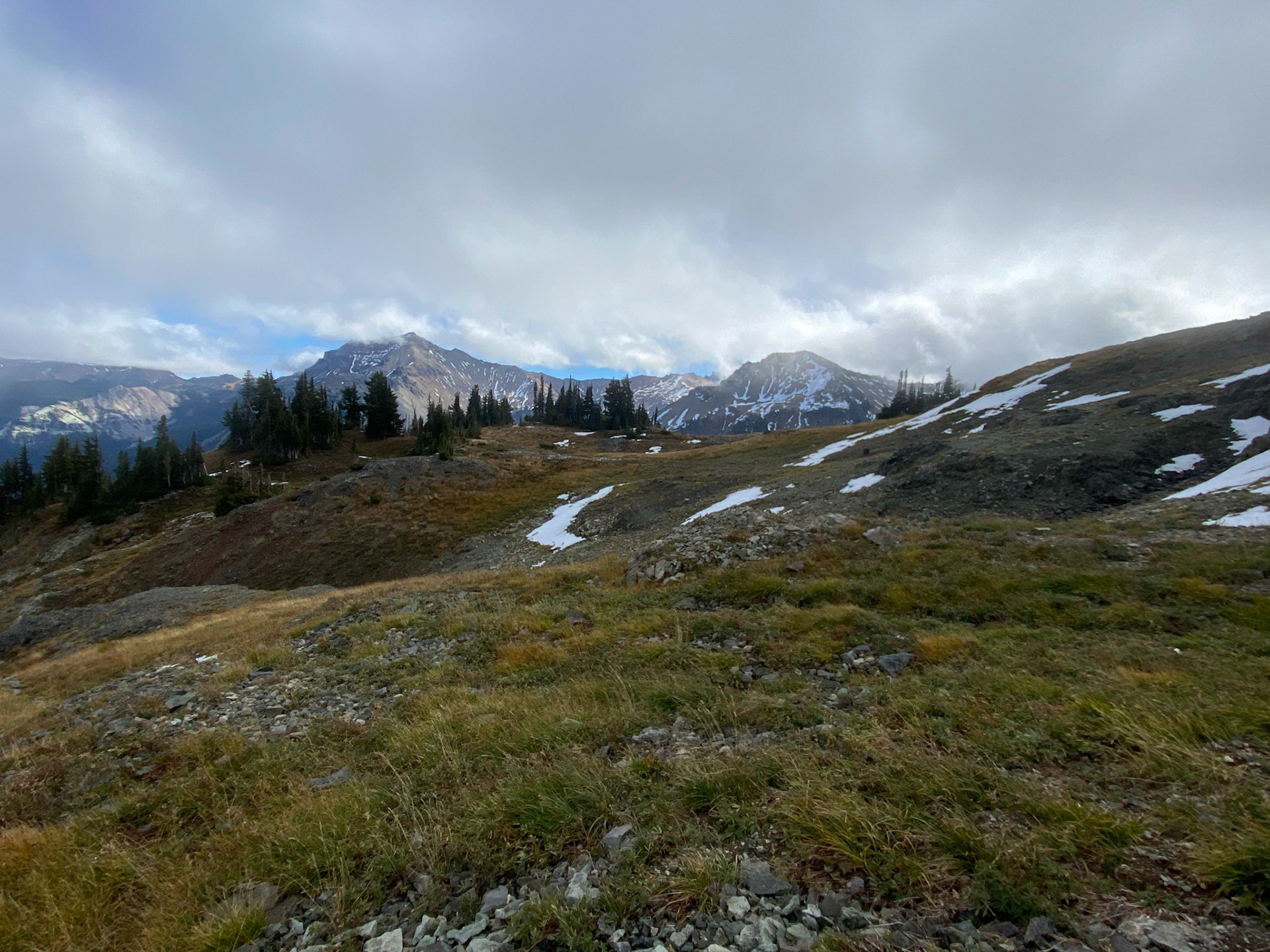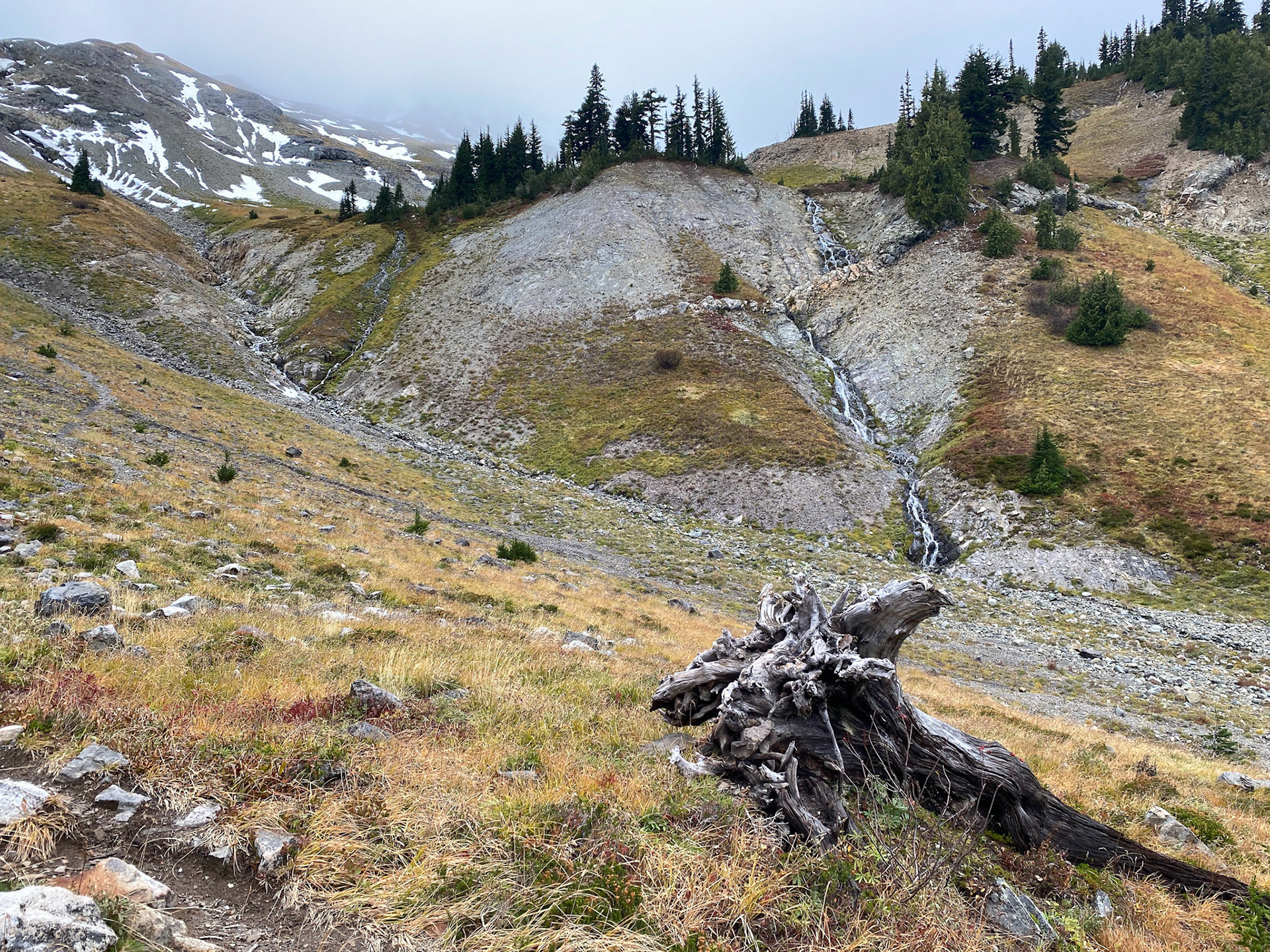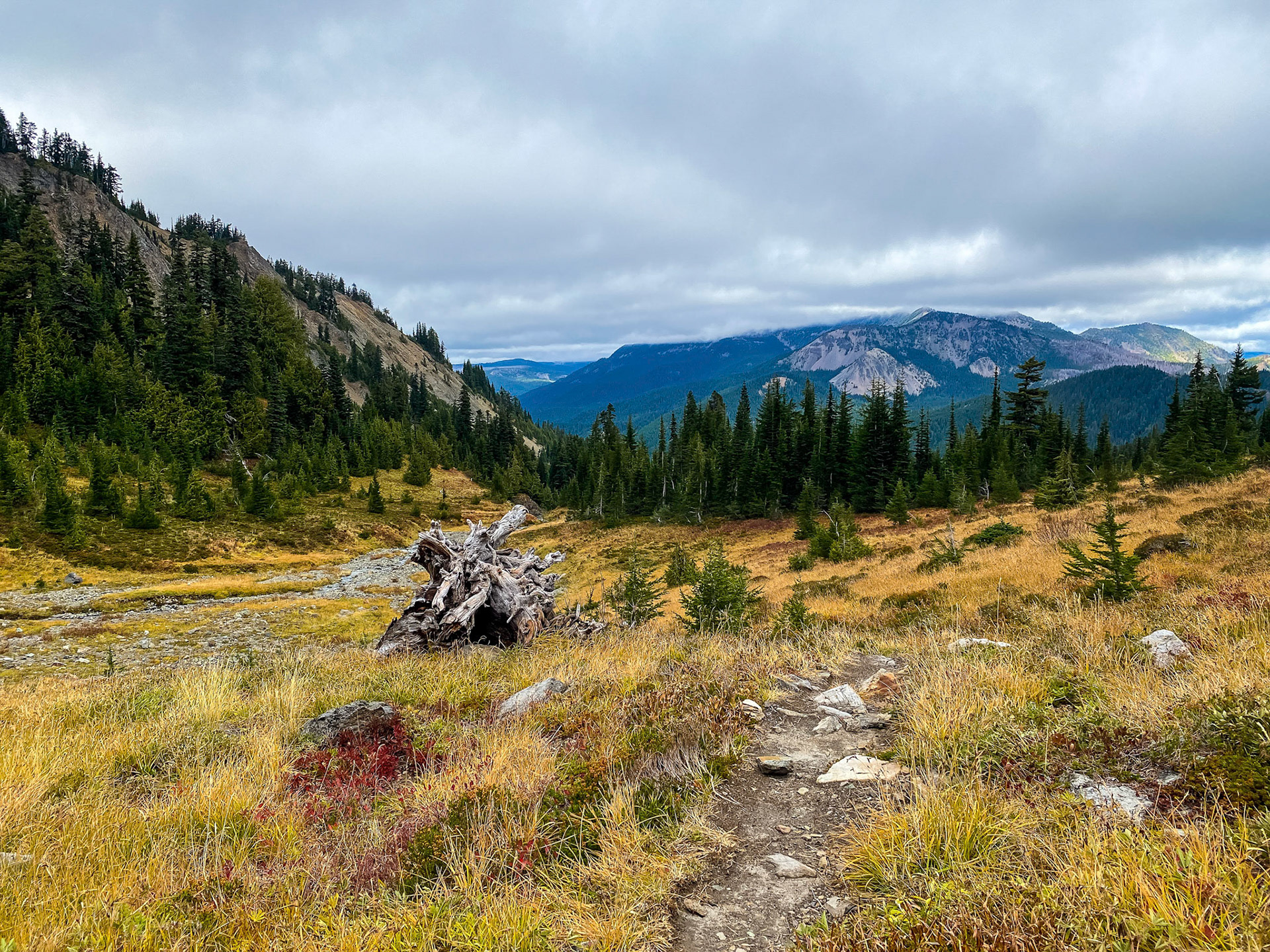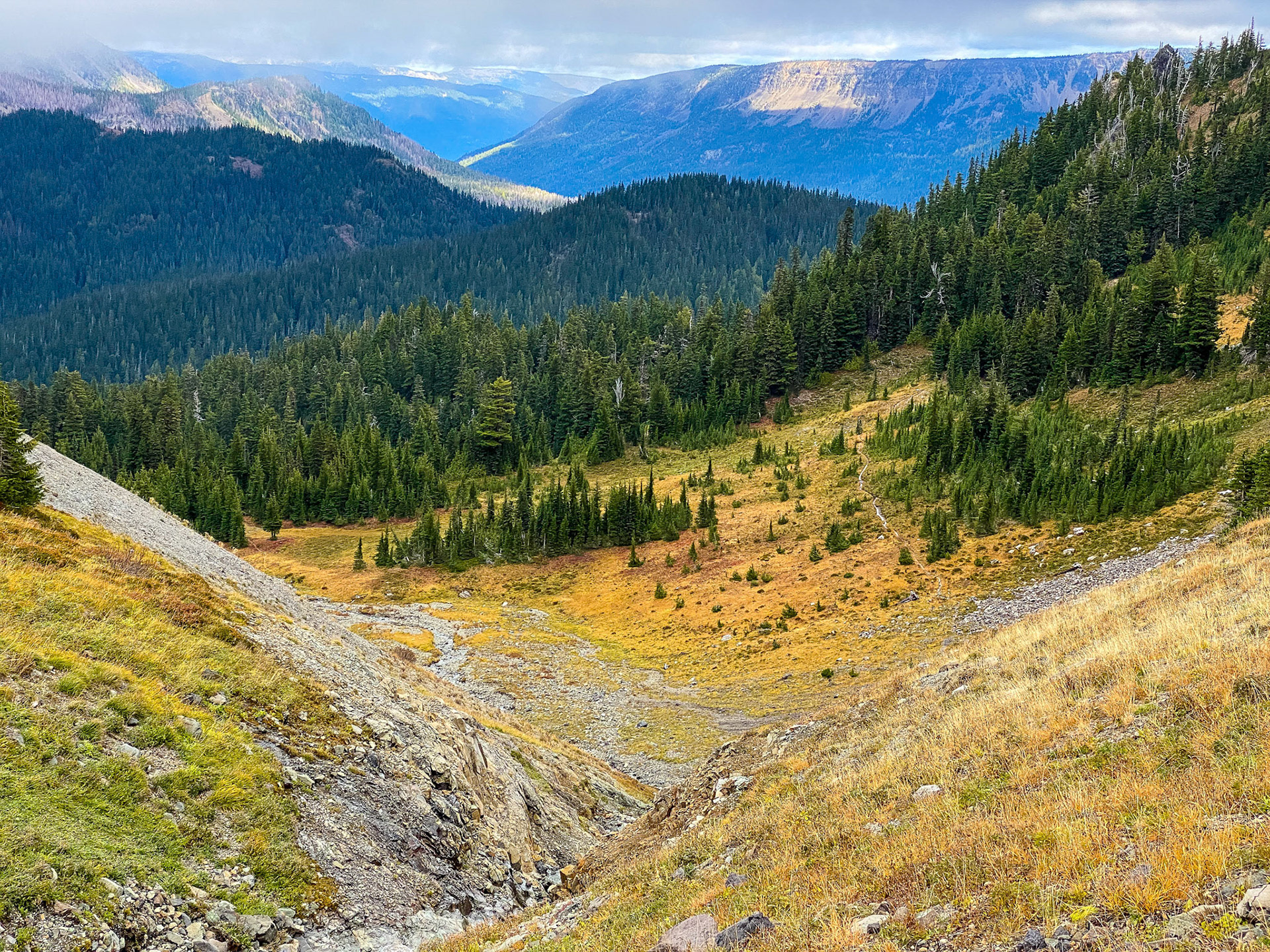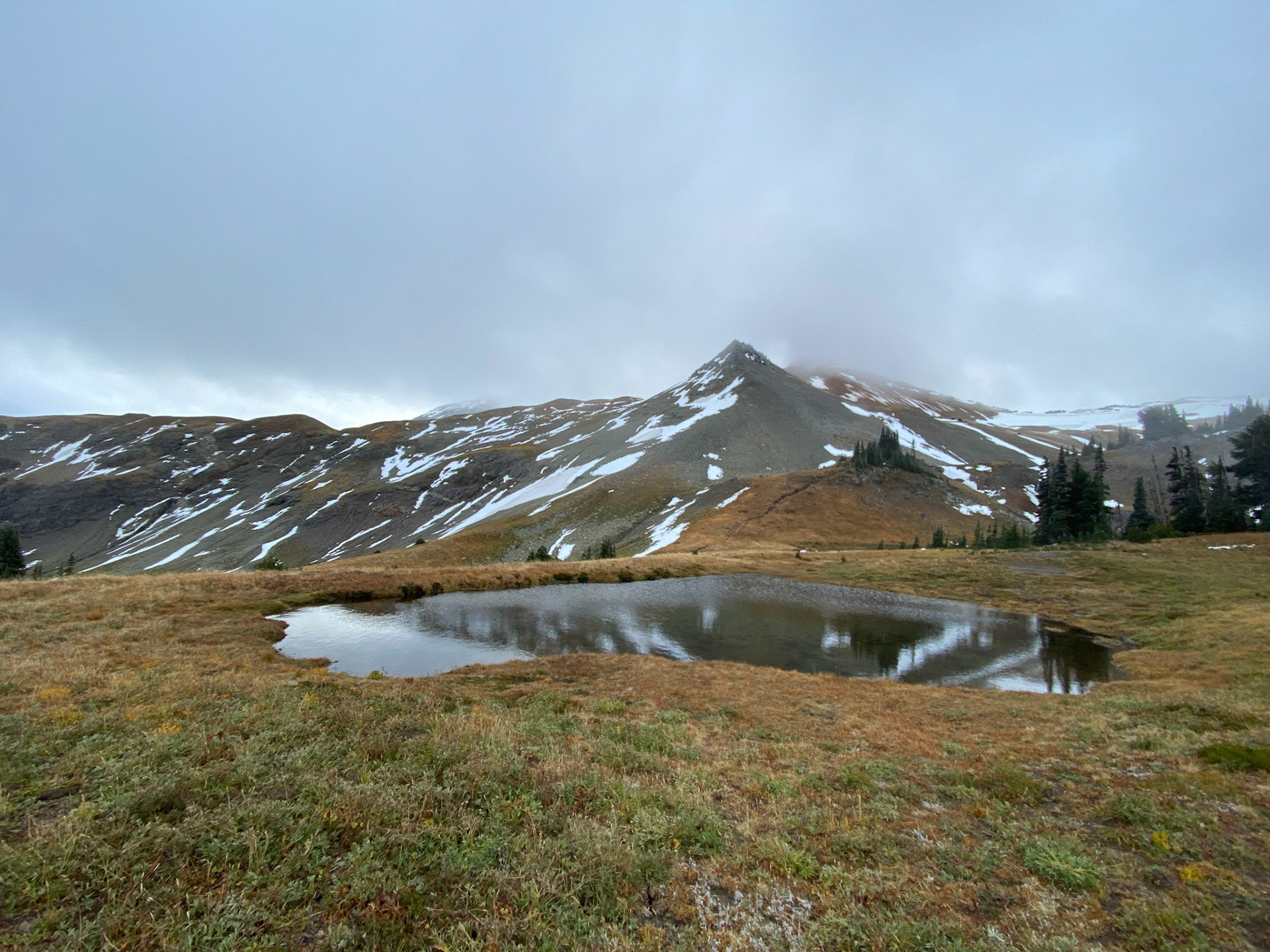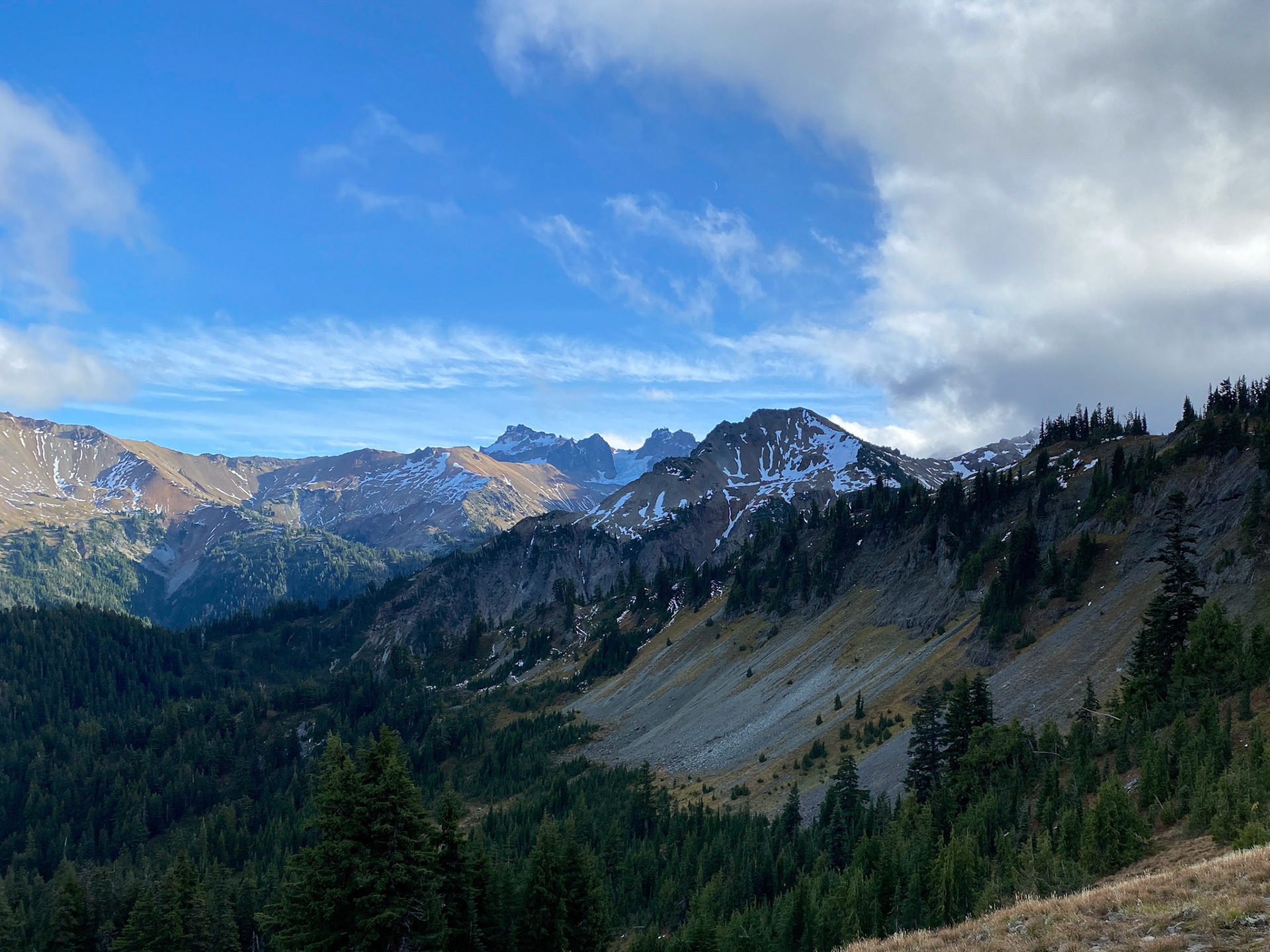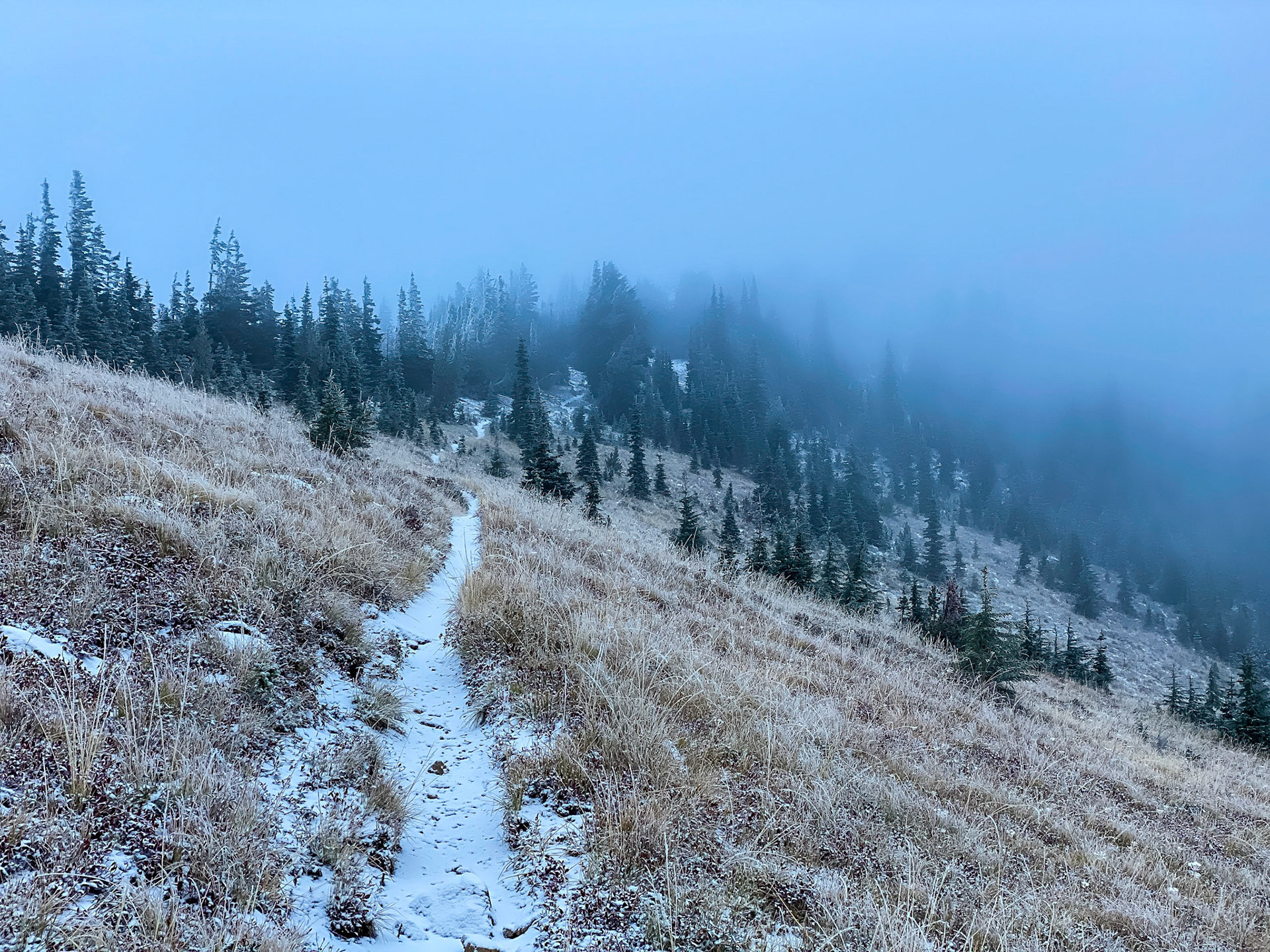 W
inter is coming! Understandably, I am anxious to make one last trip up into the Goat Rocks - I had not quite gotten to all the places this summer I had wanted. The weather forecast offers the possibility of some mild weather after a weather system moves thru over the weekend. Not expecting the best, warmest, driest weather, I pack all my cold-weather gear, including a new sleeping bag and new stove, as well as my wet-weather gear, and set out.
Parking at the White Pass PCT Southern Trail head, I set out at about 9:30. Uncertain of conditions and locations of campsites, I have no real destination other than to head south. I make it as far as Tieton Pass.
I hike south past Ginette Lake - beautiful fall color showing along the lakeshore - and up alongside the ski area, coming out to the Hogback Mountain area at the wilderness boundary after a few hours.  Before me stretches that amazing sidehill under Hogback Peak, the trail drapes like a necklace beneath the peaks of the ridge, clings to the rocky, steep slope, and provides a gorgeous view of the Miriam Basin. The weather is mostly cloudy, and very windy. Walking the trail beneath Hogback, I frequently rely on my walking pole and have to lean in to the wind. I'm not worried about being tossed off the trail, but it is not easy going, to be sure.  By noon, I've crossed beneath Hogback Mountain and am standing on the saddle at 6,572' elevation, overlooking Shoe Lake.
I spend a few moments on the saddle, but to be honest, it is so cold and windy, I depart after about 3 minutes - I want a sit-down, but not a freeze-out. Following the trail along the ridge-line over Shoe Lake, then looping around the ridge, the route begins to lose elevation, dropping continuously thru rather dense forest - some of it burned in the Hidden Springs Trail area - descending from bench to bench.
By about 4:00 PM, I begin to encounter streams, but no good campsites.  The terrain begins to ease up, and just after 5:00 PM, I found myself at the intersection at Tieton Pass. The forest is thick here at elevation 4,787', and I find a fair campsite right at the junction.
The weather when I arrive, however, is a bit alarming - the breeze has turned to wind, and the wind is gusting, up to about 35 mph! The trees under which I set up my tarp and hammock are swaying wildly back and forth, the wind whooshing loudly, bits of lichen tumbling along the small flat area and thru the air along with fir needles and branch tips. It was a challenge to set up my tarp as a wind break, but I succesfully battle the wind, tangled ropes, and slippery tree roots, eventually carving out a relatively wind-free space where I can set up my stove and sit down for a bit.
First things first, tho - water. The map shows springs immediately downhill of the pass, on both the east and west, along the Clear Fork Cowlitz Trail #61 and the North Fork Tieton Trail #1118. I can not easily find them, so I retreat up the PCT about 1/8th mile to a stream crossing.
By the time dark settles in atop the cloudy Cascade Mountains, I've gotten my camp set up, water filtered, changed clothes, and water set to boil for dinner. This will be the first use of my new stove - an MSR Windburner. I had, for the past 20 years, been using a Snow Peak Gigapower stove. It's minimal and lightweight, which is great, but one really wants a sheltered location to use it. It has served me very well all these years, but it was time to upgrade. I am amazed at how very fast water boils, and it's pretty easy to set up and use, too.
I spend some of the evening drinking tea w/ whiskey and reading a book on my phone, but mostly just sitting in the dark listening to the wind, finally crawling into my hammock and very cozy bag around 9:00 PM.
The wind blows all night, causing my tarp to be a bit noisy, and I sleep in fits and starts, but I feel rested by the time I get up around 7:00 AM, as the first dim light begins to peek thru the trees.  After the requisite and luxurious three cups of dirty chai, along with granola and berries with milk for breakfast, I once again set off south on the PCT. I don't break camp, as I know I will be camping here again tonight, but I do load my pack up with all my gear beside my tarp, hammock, and bag. Being out here to backpack the PCT, I figure it best to actually carry a semi-full backpack. You know, to keep it real.
The PCT climbs up from here, drops down to Lutz Lake, then climbs again, skirting the McCall basin before rising up to a saddle at 5,823' and dropping down into the Clear Fork Cowlitz basin. It is at this saddle that I realize I have a choice to make. All this morning, I have been having an internal dialogue with myself - what exactly are my goals today, and how will I attempt them? I definitely want to see the Clear Fork Cowlitz (CFC) basin, but I also want to continue along the PCT to Elk Pass, and maybe along the Knife Edge to Old Snowy, but also down to Packwood Saddle - either of these would connect my GPS track to previous tracks, and close that segment. In passing the trail down to McCall basin, I consider keeping this as a destination just in case I can't do the others.
Standing on that saddle, tho, and looking up the ridge line, a different thought comes to me… Part of my goal in exploring the Goat Rocks this summer was to find a certain location I found referenced in an old Native American tale, as told by Indian Jim Yoke, an elderly and long dead Taidnapam from Packwood, published a many years ago, and found now only in Google Books. The tale tells of Coyote arriving at the upper Cowlitz River and naming places and things along the way. The tale actually provides a great description of the local geography and routes before European contact. It names fishing holes, hunting areas, peaks and ridges, streams, meadows, and rock formations I am familiar with, and some I'm not, and is remarkable as something of an oral map.
One reference I was fascinated by mentioned a goat hunting location at the top of the Goat Rocks, giving a rather precise description of features, including a cave, used to smoke the goats, and describing this as being at the top of the Clear Fork. Having pored over digital maps and satellite imagery over the past year, I was certain there were a couple of locations that might be a match - I could follow the PCT to one, or I could go off-trail and follow the ridge up to the other.
And what do I spy as I stand here on this saddle, looking south and up? A faint trace of a trail. Someone has gone up this way before - not a big guess, it would be a logical scramble for anyone camping at the large open area above the Clear Fork Cowlitz basin - my other possible location. I know from the maps that there is a small lake right upon the ridge line, and if I can reach that lake, I will likely be able to reach the source of the CFC and Tieton Rivers. I don't even give it a second thought.
Of course, the faint path peters out fairly quickly - there are no boot sign, no cairns, nor any small pieces of litter than suggest someone has come this way before.  Truth be told, it seems more of a goat trail than a boot trail, but it's going where I want, so I follow it.  After a bit, the goat trail peters out, delivering me to a cliff overlooking the CFC basin, (and a group of goats climbing up the cliff) so I backtrack a few yards and find a different way up, then up some more, and even more, only to find myself at another cliff and needing to backtrack again. Finally, I find myself cresting over the ridge, on the lip of a moraine overlooking that sweet aquamarine jewel of a lake at 6,400' elevation.  I did it!!
I spent the next couple of hours exploring this ridge top. The rivulets that plunge down the cliffs into their respective basins to become the Tieton and Clear Fork Cowlitz rivers trace silver threads down the shattered dark rock face of the mountain, collecting next to each other in a small flat area covered in grasses and wildflowers - all brown and crispy. This, I had read, was once known as the Crossing Over Place - a spiritually significant place according to Coyote's tale. It was only standing here that I realize why it is called that - I had supposed this to be the place where one would 'cross over' from one watershed to the other, or perhaps something more spiritually meaningful, where one would cross from one world to the next… all of these may be true, but what I notice immediately is that the waters of both rivers mingle before they separate and flow separately east and west, that is to say, the waters cross over. I am not exaggerating when I say I had something of a minor religious moment here.
Although I venture a bit around this area, and further up to where the CFC seeps out of the talus, I do not find the cave I am seeking. Perhaps I am not actually in the right area, or perhaps the cave has collapsed. It might even be on a completely different mountain, many miles away. In any case, cave locations in the region are kept very, very, secret, for very, very good reasons, so perhaps it is for the best this remains unknown to me. (If I had found it, I wouldn't be telling you about it…) I was completely blown away by my afternoon up there.
I began to retrace my steps, continuing to eye the upperMcCall basin, just below me. I was pretty certain I could descend a bit into the basin and end up back at the saddle. Down I go! The golden meadows hang one above the other, and it is easy to find a route from one level to the next. At one point, a trail is visible, following it brings me back to the meadow below the saddle. Once back to the saddle, I continue down the PCT to the CFC basin.
I hike so far as the lake above the south rim of the basin, take a short break, and then head back. I am tired of climbing, to be honest, but also with the weather getting a bit worse, I decide it best to give up on Elk Pass and The Knife and Packwood Saddle.  There is always next summer.
Thankfully, the wind is not the issue it had been the previous night - more a steady breeze than a windstorm, but the temps are lower, and dropping, and I am eager to change into warmer layers as soon as I get back. After a dinner of chicken and dumplings, I spend the evening with my book and tea, heading to bed before 9:00 PM, where I pass out hard for a few hours.
But only for a few hours… I awake around 3:00 to the sound of small ice pellets striking the tarp. It only lasts for a few minutes, but my mind is awake and thinking about the weather.  I see there is no snow on the ground, so try to roll over and go back to sleep. It doesn't work.
I get up and make some dirty chai, break camp, and set out north on the trail - all before 6:00 AM. I hike in the dark, turning off my headlamp as soon as there is enough dim morning light to see the trail. The sun never does make an appearance, the sky barely lightens at all as overnight, winter has arrived in the form of a thick cloud layer and fine, dry snow falling. The higher I hike, the dusting of snow increases and gradually covers the trail. By the time I reach the burned over area, the sky has lightened to daytime, but winds are howling above me, and the snow keeps coming down, thicker and thicker. I stop in the middle of the trail to boil up water for my third cuppa dirty chai.
Approaching Shoe Lake, I'm not really having fun now, it's too cold and windy to stop for more than 2 minutes at a time, and I'm starting to worry about that stretch of trail alongside Hogback Mountain. It was a little bit difficult a couple of days ago, I had to punch steps into the ice in places, and I doubt that the cool temps have cleared that ice off the trail. I worry the trail will be even more treacherous today. I am glad I left early.
The hike along the exposed ridge above Shoe Lake is painful and worrisome - the very cold, very strong winds are difficult to manage, everthing is coated in thick ice. I find myself doing a self-check - am I too cold, confused, shivering? None of that, but I am at risk of hypothermia out here, and while I have warmer clothes I could put on, I gamble that it would be best to just keep moving. Descending into Miriam Basin is no better, and the trail has definitely not improved.
I do not have the trouble I thought I might have, though - my previous foot steps are frozen into place, filled with fine powder, but still providing relatively safe footing. In about an hour, I've traversed Hogback and am approaching the ski area again. It was cold and windy and nerve-wracking, but I made it. Phew!
It seemed to take forever to reach the bottom at White Pass - and the snow followed me the whole way. Arriving at the trailhead at around noonish, big fat flakes are now coming down - the snow level has been dropping all day. I stop at the store there on the summit and purchase some hot chocolate mix for the trip down, and by the time I have a hot, steaming cup of comfort in hand, the fat flakes are coming down fast and hard. By the time I've driven down the pass to the Y at Hwy 123, the snowplows are heading up, so I'm thinking it snowed hard up there, iced up maybe even, just after I left. Talk about good timing!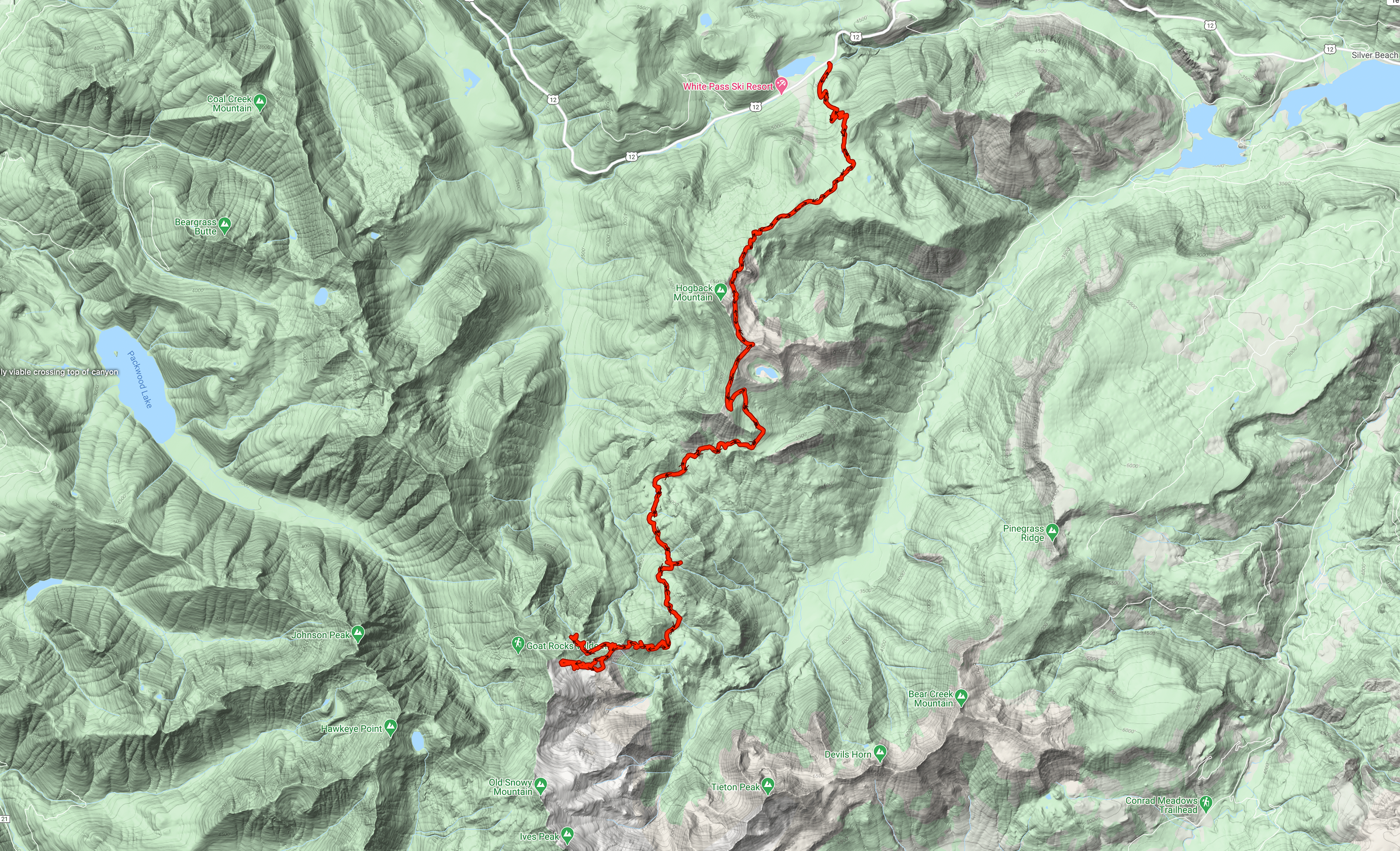 I hiked 35.9 miles miles with 7,047' of elevation gain.

Pictures taken October 20, 2020 along the Pacific Crest Trail south of White Pass, GRW, GPNF & OWNF