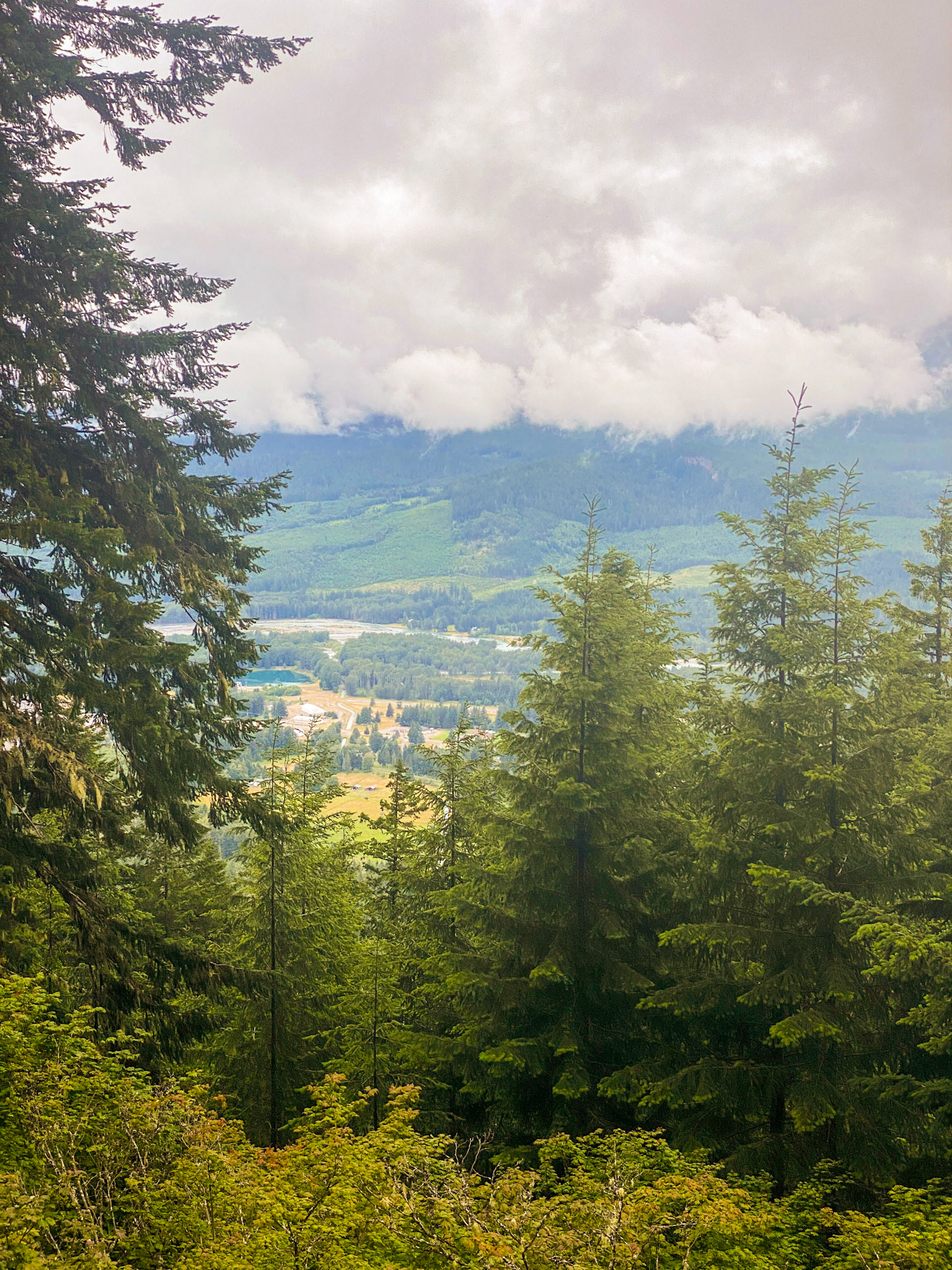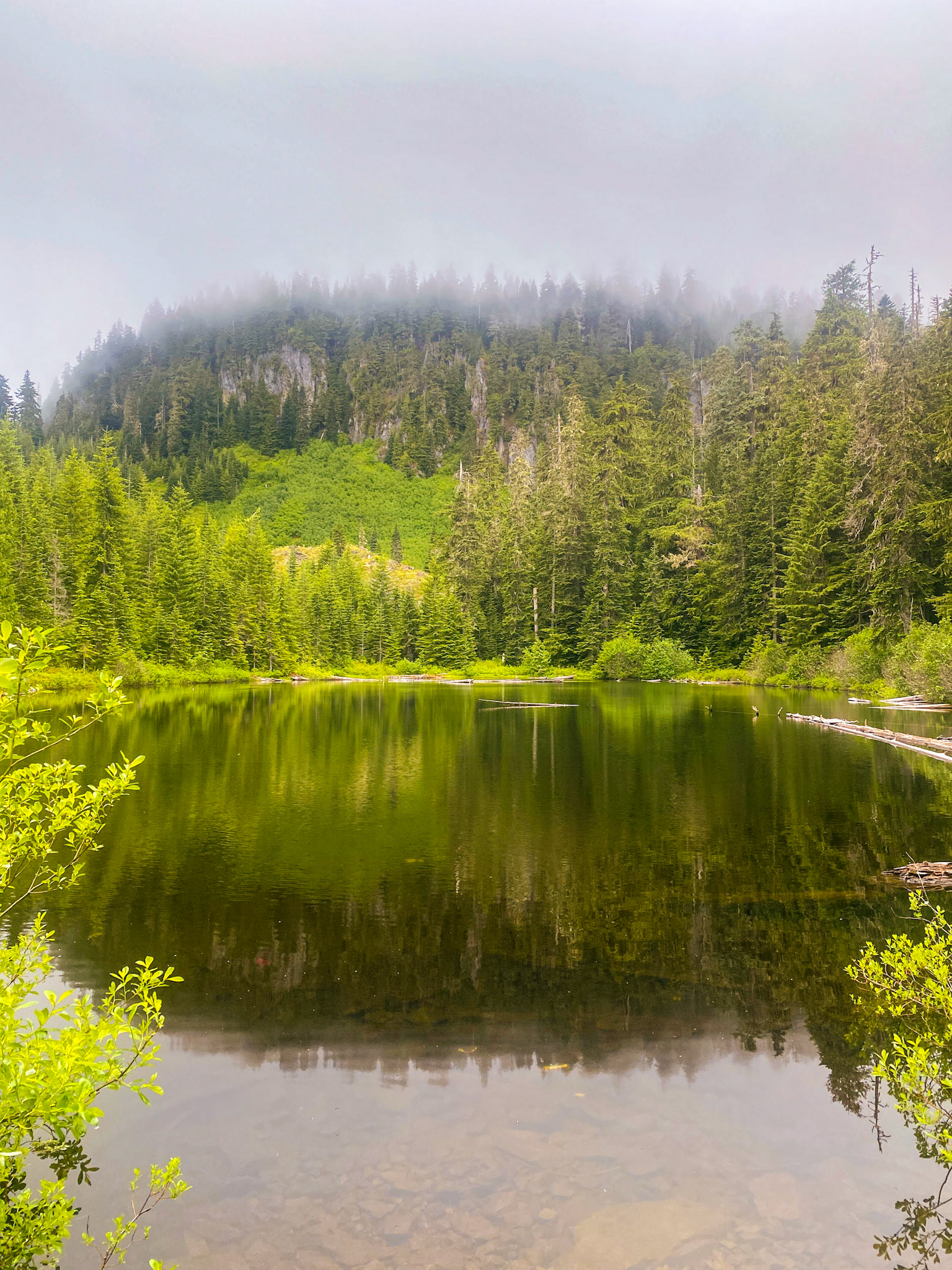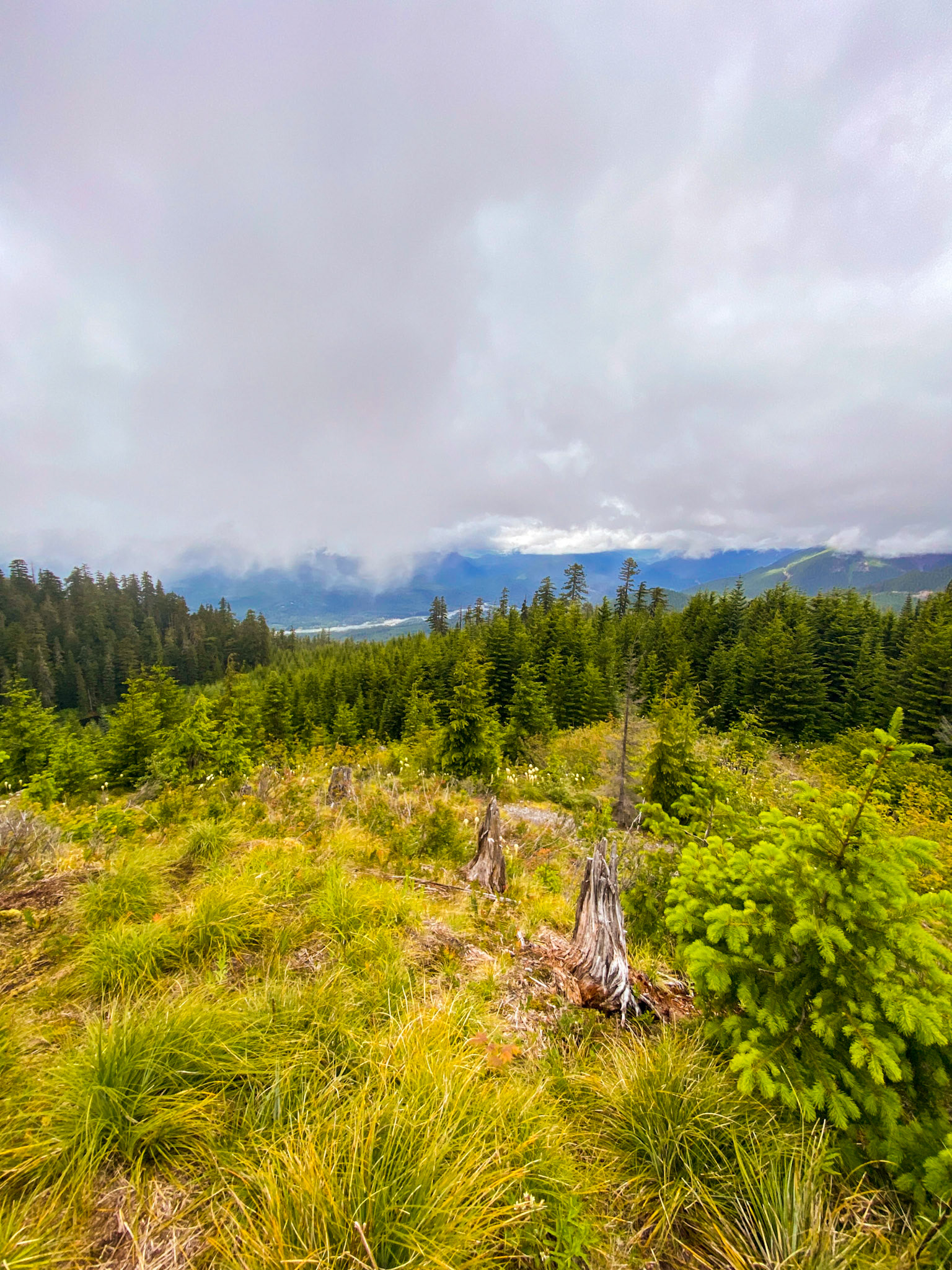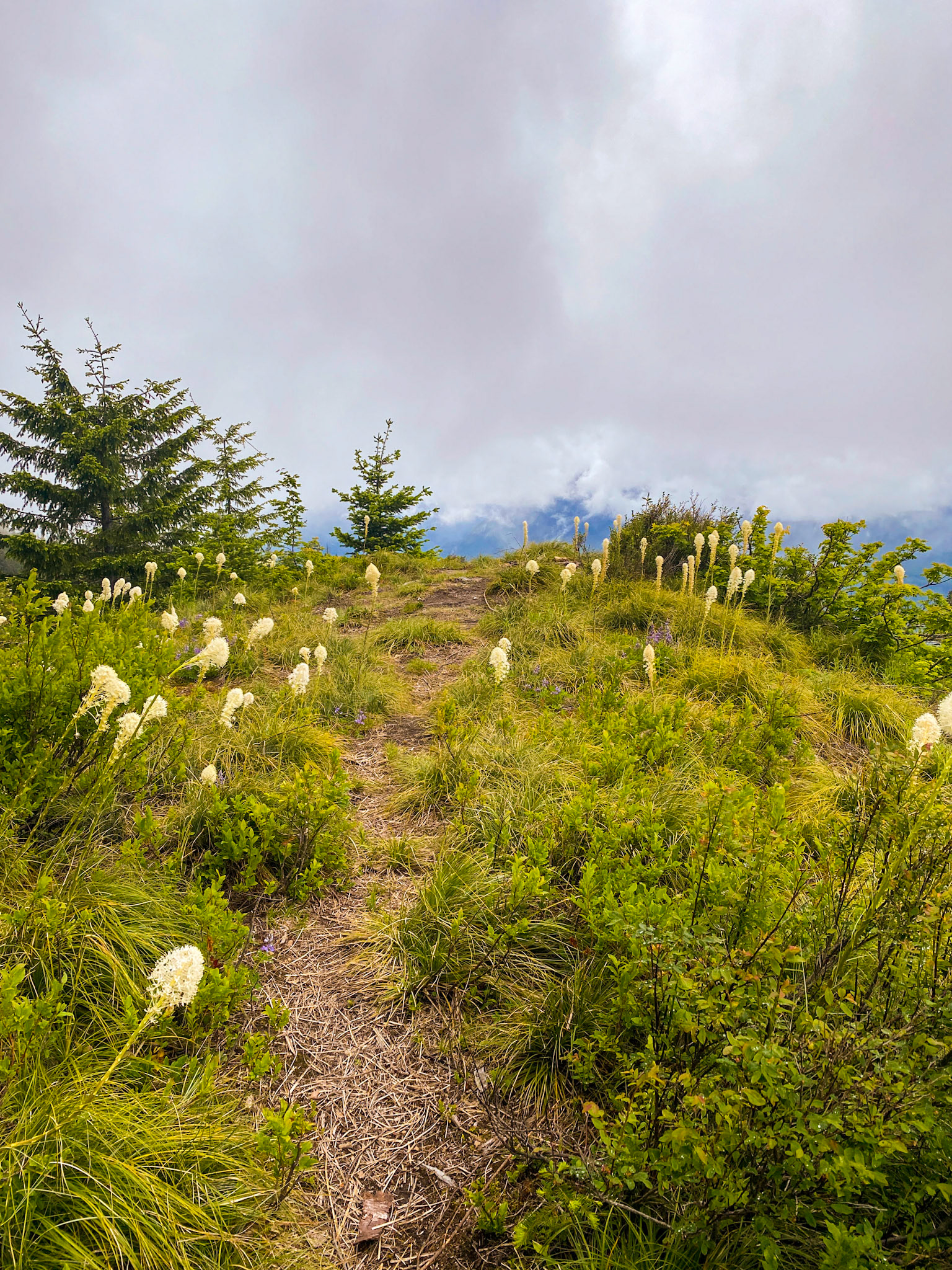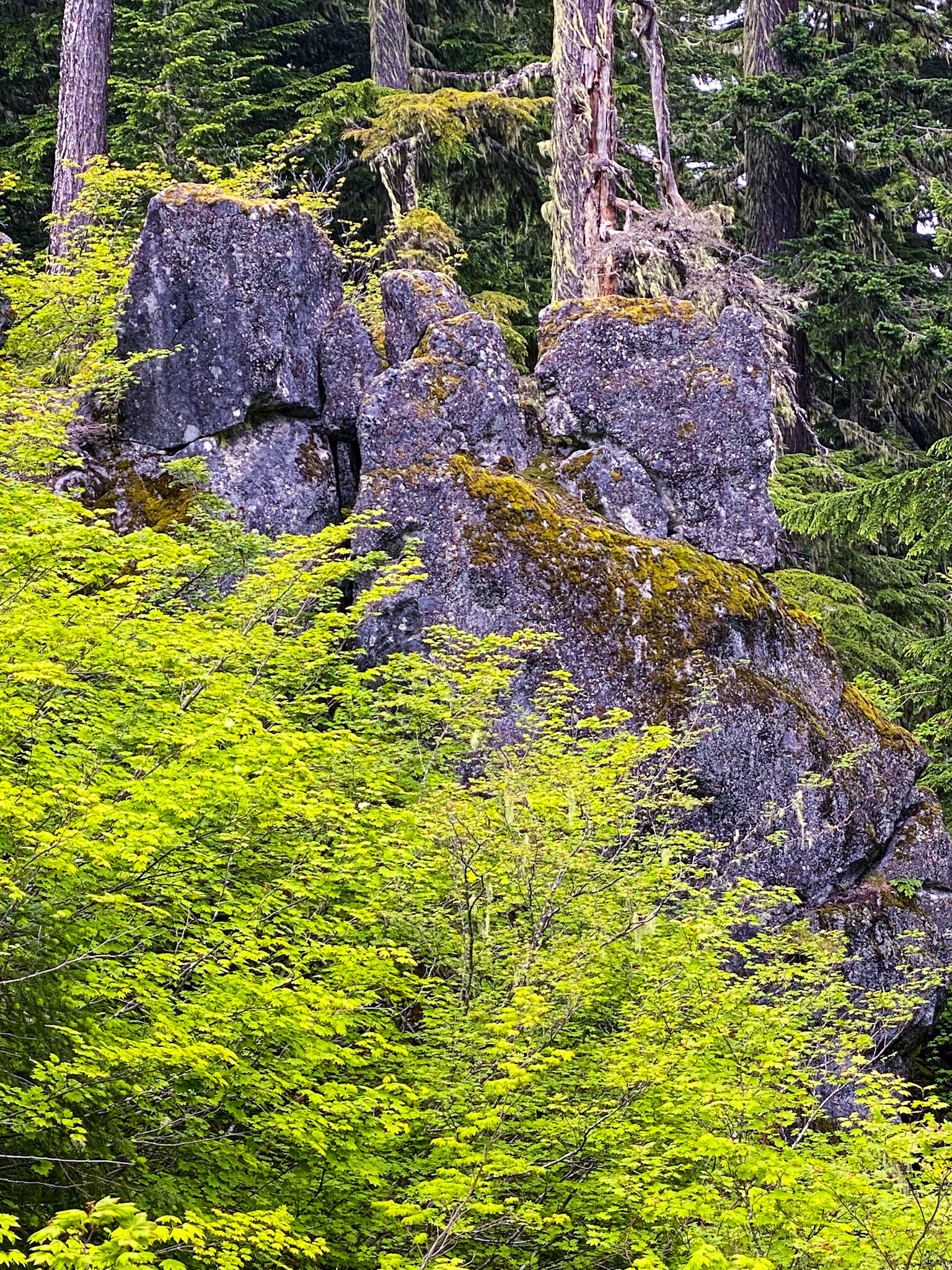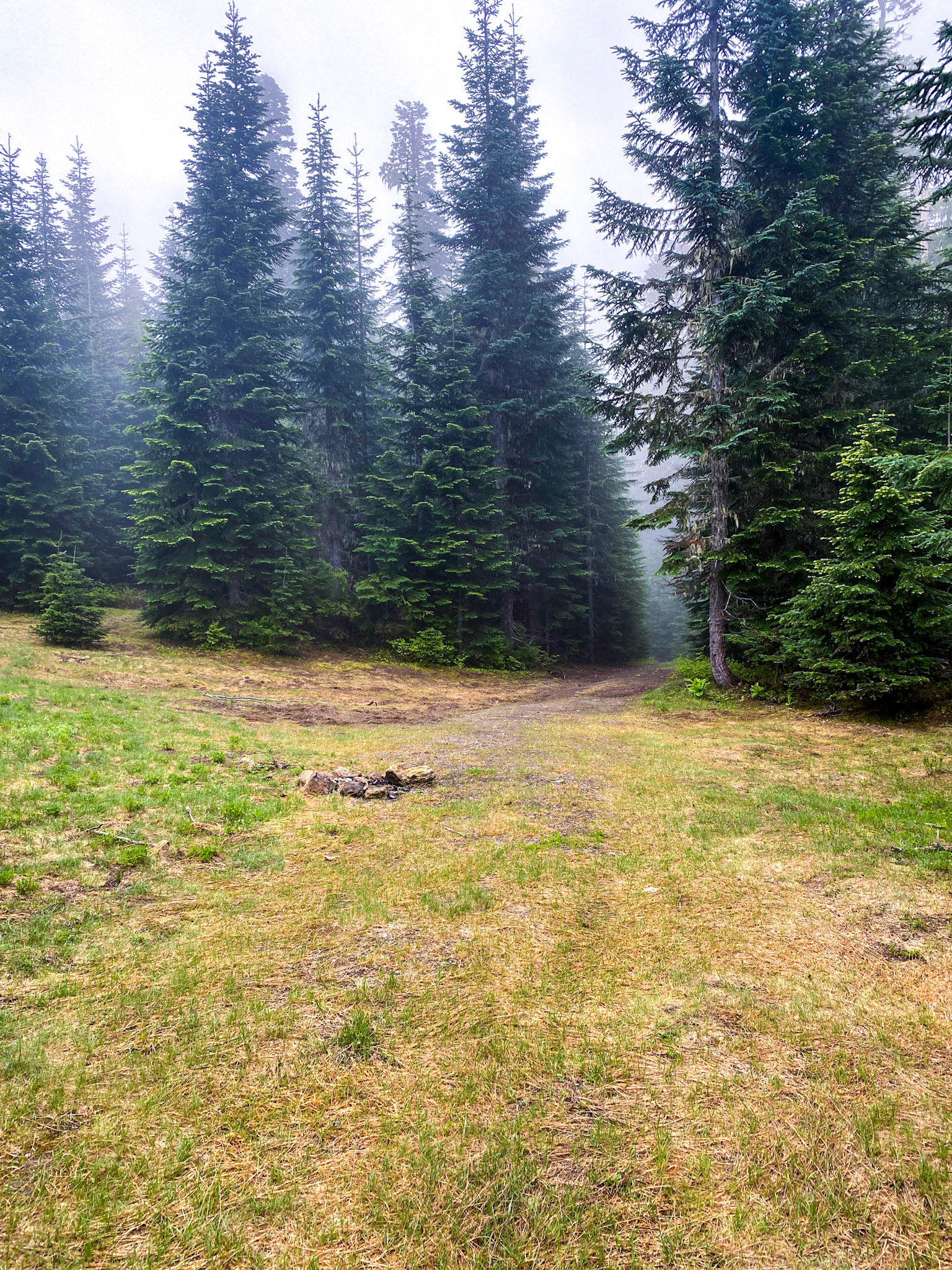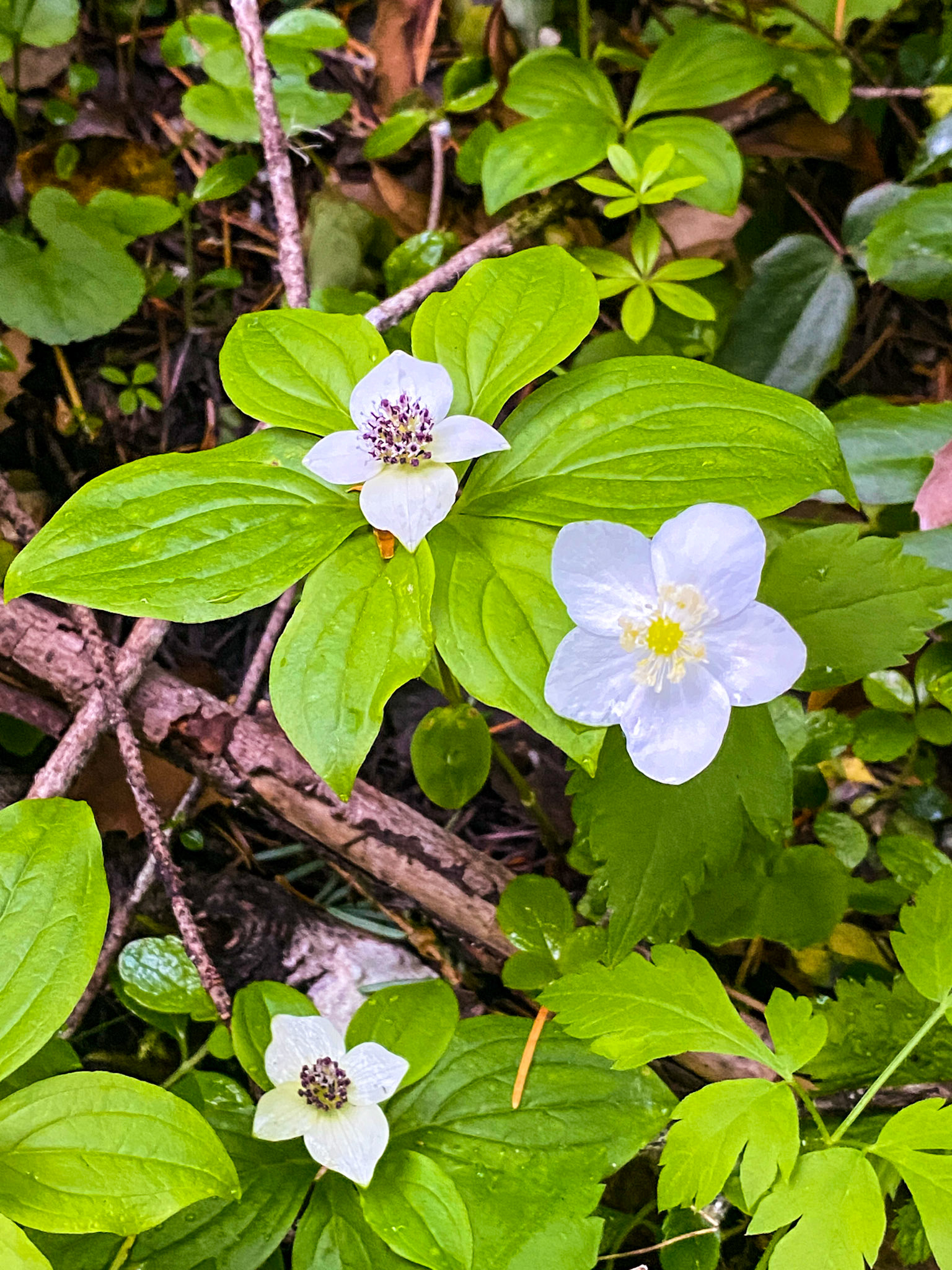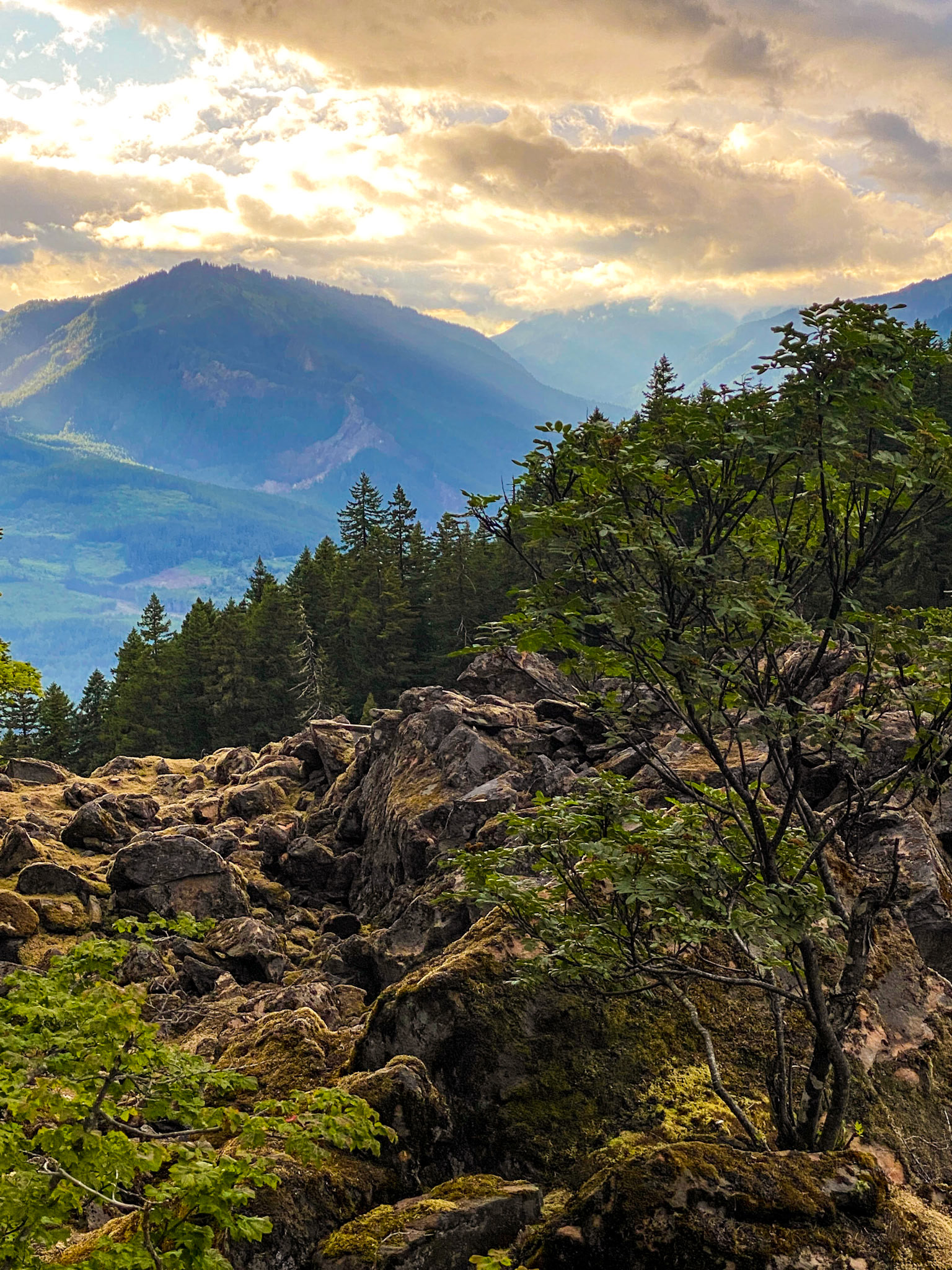 T
hinking I'd have a low-energy day in Packwood, having had a headache for days. In no hurry to leave in the morning, I arrived and parked at the Community Hall just before 10:00 am. A group of people were meeting outside the hall, using the picnic tables at the park - I don't know if it was a church or S&R group, everyone was driving a pickup truck. Being Packwood, it could be both.
I set off up the highway, walking thru downtown. I detoured down Main Street east, and back up Willame St.  I'm curious to see what's changed over the years - not much. It takes only a few minutes to walk thru town, I turn right and head up Snyder Rd, and access a trail just past Beargrass Ln via an ATV track that's been blocked by debris and signed to keep them out. The trail is not marked or signed otherwise.
Stepping onto he trail, I can see it continues down to access the Powerhouse Rd, but I decide to follow the trail up, winding thru open 2nd- and old-growth to follow the top of a cliffy section up the mountainside - white oaks lining the way where the soil is exceptionally thin. Prunella, violets, anemone and bunchberry bloom profusely across the forest floor.  A pair of nesting robins scream at me when I decide to stop for a minute. I am an obvious threat, and must be chased from the forest. I have already forgotten my headache and tiredness.
The path continues, with moderate grade, back up to Snyder Rd, just shy of Snyder Lake. My original intention was to stop by Snyder Lake for a break,  but found the trail continuing up the mountain across the road. Change of plans!
Less travelled, this section presents a narrower, rougher, and steeper tread, but is no more difficult to follow, putting one back on Snyder Rd just past the Snyder Lake curves. A fair amount of distance is swapped for the climb - it feels worth it.
I follow the road almost to the Packwood Lake trail heads, but turn off to follow USFS 4830 further up Snyder Mtn, to Art Lake. The road is gravel now, but in great shape. Not finding any trails that might cut off the extra distance of staying to the road, I follow long, lazy switchbacks to Art Lake. I think to myself that the extra distance is alright, I am not yet tired, and I've got all day.
Art Lake is a small, roughly oval shaped lake, lying at the base of cliffs on the northern end of the Snyder Mountain ridge-line. The topograpohy suggests a massive landslide, with a huge field of boulders descending the mountain below the cliffs, most of which has not yet been reforested. Huge jumbled boulders are dotted with wildflowers and little bonsai-like grand and noble firs.  Bear grass blooms profusely. Pikas shriek. I suspect this slide may have happened contemporaneously with that which created Packwood Lake 1,200-ish years ago.
There is a nice drive-in campsite at the lake - just one, with huge trees and a good, level parking area. A narrow road travels up into the slide area, and good campsites are found along that as well, with the road terminating at yet another great campsite atop a rocky, bear-grass strewn knoll. All these camps are dry camps, of course.
After exploring for a moment, and realizing I was not going to be able to make the summit from Art Lake, I turned back, and traced my steps to the Lake. Boot paths near that camp revealed an active timber theft operation, with a handful of old-growth trees felled or otherwise damaged.
I continue along USFS 4830 for a way further, arriving at another spur, this one heading back and up the mountain in a straight line, toward the summit, and rather nicely lining up with the end of another road following the summit. I hope for a connecting path, and set off thru waist high azalea, wet with last night's rains. The azalea-choked track leads to an open camping spot, and I find the suggestion of a path rising up the mountainside exactly where I want to go. That path turns into an off-trail scramble, but the old-growth is accommodating, and I rather easily pick my way up toward the summit. After a short effort, and some frequent map-checking, I find myself on the summit, and striding across level ground thru open parkland studded with sub-alpine grand and noble fir. A large fire ring marks the end of the road, jeep tracks continue up to the actual summit point, un-remarkable in the mist and damp, and dotted with old, thin, rotten snow patches.
Too chilly and windy to stay, I follow this road, the USFS 48 across the ridge-line toward the true summit of Snyder Mtn. Mosquitoes are making their presence known - the noisome, buzzy males giving way to the silent, cruel females. As long as I am walking, it's not so bad, but stop for just a moment, and clouds!
I was half hoping to find a path to work my way to the summit, but the road veers off and begins to descend without one. Eventually, I find myself well down the mountain, approaching Hager Lake. I pause for a rest and to enjoy the view from the rocky field at the road junction. A big, shiny new pickup is trying to figure out how to 4x4 in the old borrow pit there - they give up after a moment.
I encounter the shiny pickup people about 1/2 mile down the road - they're busy chopping a rotten, punky round of a log with a small hand axe. Of all the wood out on those roads, why they pick an old rotten piece of wood is beyond me.  Just the one. Maybe it wasn't for fuel, but a garden project or something. I continue down the road thru the large switchbacks to the highway, and as I near the valley bottom, the clouds begin to break up, and a gorgeous evening is taking shape.
Getting tired, I opt to skip Hager Falls, and with my legs feeling just about done, I figure my best option is to keep to the road and avoid the difficult maneuvering of x-country travel along the creek. It would be much shorter, but climbing over logs and such would simply invite leg spasms.  Bats begin to flit across my path. Thrush's have started their evening song - it is my favorite, simply a series of long notes echoing thru the forest. The sideways light of the setting sun sets all the Douglas fir trunks afire with an orange glow.
Crossing the bridge over Hall Creek, an owl calls out repeatedly, its asthmatic whistles hard to locate. The whistles change to shrieks as I pass a certain tree, then the owl takes flight - which I could track only by sound, disappearing into the maples across the road.
Exiting the USFS 48 Rd onto Hwy 12, I am greeted by just a few vehicles roaring past. Traffic is very light. There is no tourism to speak of this year. I saw no campers in any of the normal along-the-road campsites anywhere on my route - and Snyder Mtn is a rather popular place. Very few people were driving around the forest, altho I did have a few encounters - a bicyclist, some wood cutters mentioned above.
I arrived back at the community hall in the dusk, at about 9:45 PM. So much for a low-energy day - it's been a long one at 12 hours, and I've hiked a personal-best distance. I'm pretty tired, but not having leg spasms as I often do. The drive home was uneventful, thankfully, but I did arrive back at Napavine too late to get any fast food - that felt rather eventful in the moment. I was starved by the time I got home, but Mike, bless his heart, had ordered Chinese food. It was the bomb.
So much for a low-energy day!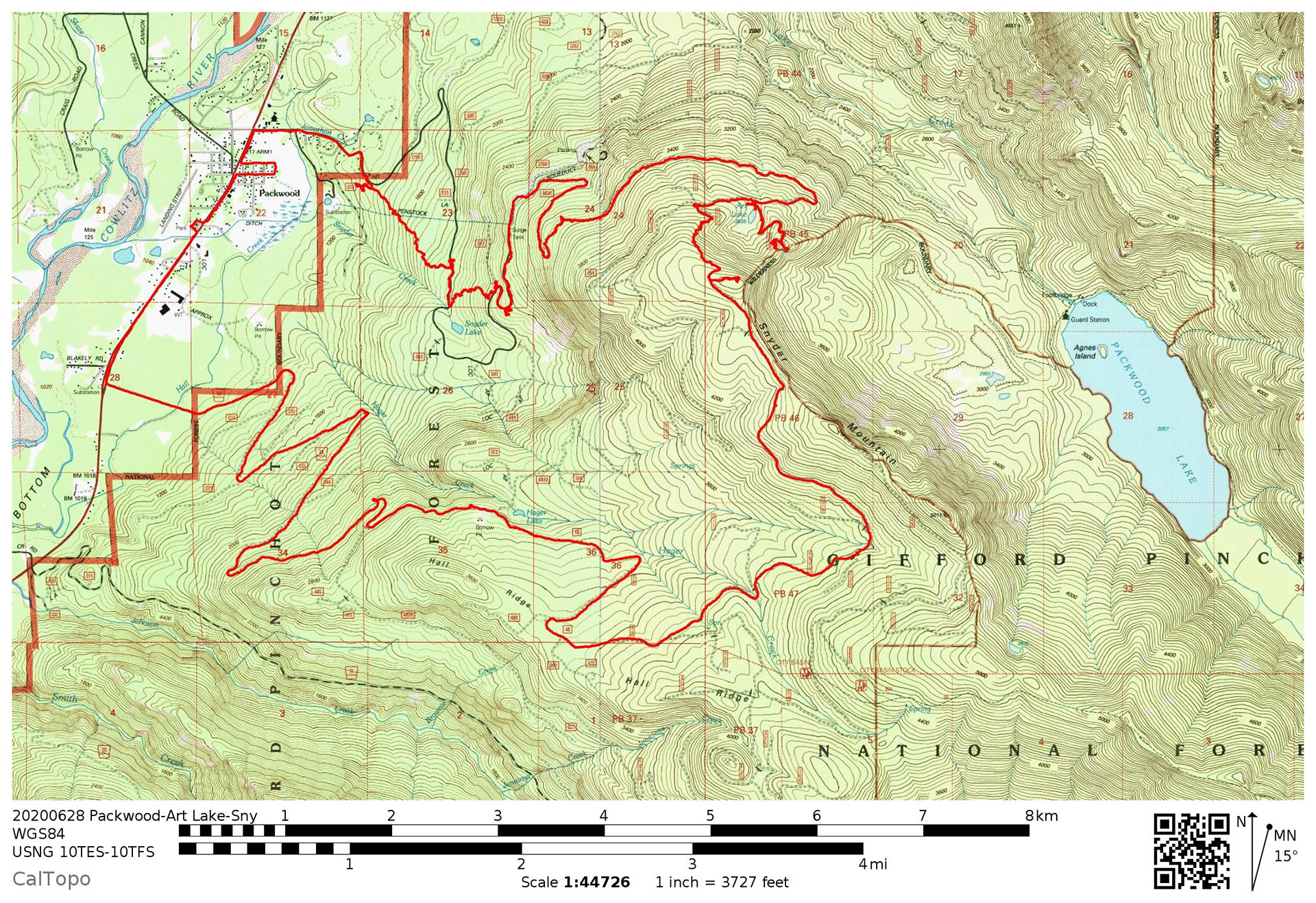 I hiked 26.5 miles with 3,964' of gain - a personal record for mileage.
Pictures taken June 28, 2020 at Packwood, WA, on Snyder Mtn,  GPNF